ISLAMABAD - Pakistan's General Pervez Musharraf swept the most votes in a presidential election on Saturday, Election Commission officials said. But he has to wait for the Supreme Court to confirm the legality of his bid before he can be declared winner.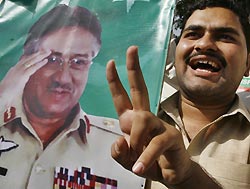 A supporter of Pakistan's President Pervez Musharraf makes a victory sign in front of the Parliament building during the presidential election in Islamabad October 6, 2007. [Reuters]
In the two houses of parliament, Musharraf won 252 of 257 votes cast. His closest rival, Wajihuddin Ahmed, won two votes, while three votes were rejected, Chief Election Commissioner Qazi Muhammad Farooq told the National Assembly.
DAWN NEWS reported that Musharraf got 31 in North West Frontier Province (NWFP), all the 33 votes in Balochistan province, 253 in Punjab province and 102 in Sindh province.
Another candidate retired Supreme Court judge Wajihuddin Ahmed got two votes in the national assembly and senate, one in NWFP, three from Punjab province and two in Sindh province.
The voting process of the presidential elections started from 10 a.m. (0500 GMT) and concluded at 3 p.m. (1000 GMT).
"This result shows the people want continuity of policy," Prime Minister Shaukat Aziz told reporters in parliament.
"It's a very good omen that the election was fair and transparent."
Musharraf has to wait for the Surpreme Court to confirm the legality of his bid before he can be declared winner.
The opposition People's Party of Pakistan (PPP) opted to abstain from the presidential elections on Saturday, a local TV channel DAWN NEWS reported.
The members of National Assembly belong to PPP walked out of the National Assembly Hall when a session was summoned, the report said, adding that the session had been adjourned.
The PPP, led by former Prime Minister Benazir Bhutto, announced on Friday that their parliamentarians would not resign from the National and Provincial Assemblies.
Around 200 parliamentarians belonging to the opposition alliance All Parties Democratic Movement have quit in a bid to oppose Musharraf's reelection.
The Supreme Court ruled on Friday the vote could go ahead, but no winner could be declared until it had decided whether Musharraf was eligible to run for office while still army chief.