Travelers are urged to get on the road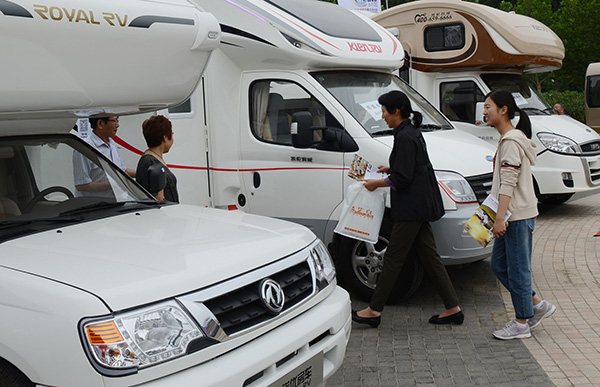 Visitors look at recreational vehicles during a tourism exhibition in Zhengzhou, Henan province, in May.[Photo by Zhang Tao /For China Daily]
Authorities promote the use of recreational vehicles for taking vacations in the country
China will promote road trips and recreational vehicle travel, tourism administration authorities said on Wednesday.
The China National Tourism Administration, with 10 other ministries and commissions, released a series of guidelines to assist the development of these forms of travel.
The guidelines set a goal of building 2,000 campgrounds, as well as developing popular itineraries and destinations for domestic road trips by 2020.
The ministries and commissions involved include land and resources, environmental protection, housing and urban development, as well as transportation.
Peng Decheng, an official from the tourism administration, said the guidelines are drawn up against a backdrop that driving and recreational vehicles are becoming increasingly favorable choices for Chinese tourists.
"Driving and recreational vehicle travel represent an unconstrained, self-designed lifestyle and have been embraced by a growing number of people in China in recent years," he said.
Statistics from the tourism administration showed that almost 60 percent of the trips made by Chinese tourists last year were road trips, including the use of recreational vehicles.
But gaps exist between the development of these forms of travel in China and in developed countries, Peng said.
There are 18 million recreational vehicles around the world, though only 30,000 are in China. Meanwhile, China only has 463 campgrounds, about 3 percent the number in the United States.
"Both the quantity and quality should be improved," Peng said.
To do that, the guidelines call to boost the leasing of cars and recreational vehicles. Plans for campground construction were also made in areas alongside the Silk Road and scenic spots in the Yangtze River Economic Belt.
Land use has long been a concern in developing recreational vehicle and road travel, as tourists are not allowed to park their vehicles on farmland, while land used for buildings may be too pricey.
Wang Weizhen, an official from the Ministry of Land and Resources, said that under the guidelines, when people traveling in the countryside want to park their vehicles, they can use approved public land in villages, Wang said.