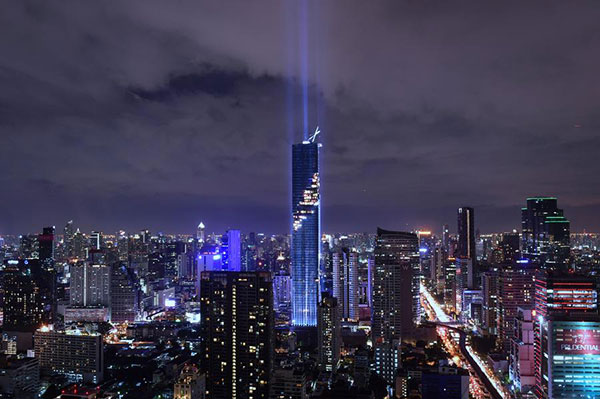 Night scenery of Bangkok, Thailand, August 29,2016.[Photo/Xinhua]
The Tourism Authority of Thailand said earlier this month the country's tourism is expected to keep growing and generate $75 billion throughout 2016, adding that the coming visa on arrival fee hike may not decrease Chinese and Indian arrivals.
In the first nine months of 2016, Thailand's tourism is expected to generate $54 billion for the Thai economy, a 14 percent increase compared with the same period in 2015, the TAT's governor Yuthasak Supason says in a media release, adding that a total of 24.94 million foreign tourists are expected to contribute $36 billion.
For the last quarter of 2016, the TAT expects the tourism industry to generate $20 billion, including $14 billion from 9 million foreign tourists.
However, Thailand's immigration authorities declared earlier that they'll begin imposing new charges for visas on arrival from Sept 27, raising the current fee of 1,000 baht ($29) to 2,000 baht.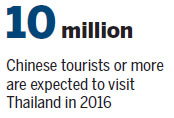 The fee hike was criticized by The Bangkok Post, which said it "goes against the country's numerous campaigns to attract more tourists".
Yuthasak says the adjustment is to encourage tourists to apply for visas before they enter the country.
"Nowadays, tourists are waiting in long queues for visas, which is a pressure on our immigration authorities, and tourists may get upset as they have to wait for a long time," says Charoen Wangananont, president of the Association of Thai Travel Agents.
According to the Ministry of Tourism and Sports, around 19.54 million foreign tourists visited Thailand from January to July this year. About 30 percent were from China, which is the biggest share.
The TAT expects the number of Chinese tourists to exceed 10 million in 2016.