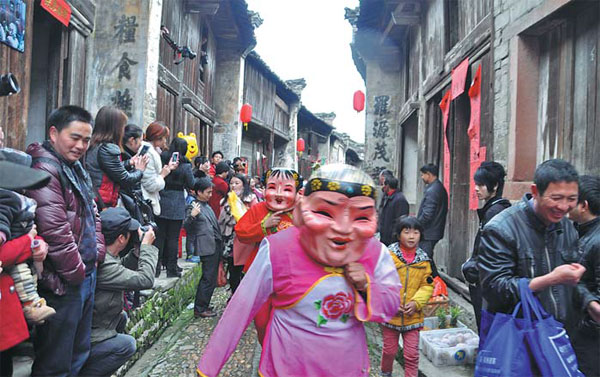 Visitors admire a local folk custom performance. Xiao yuanpan / For China Daily
Ancient cultural relics, natural beauty and a range of promotional campaigns have made Meibei village in Ji'an, Jiangxi province, a popular tourist attraction.
Covering an area of about 1 square kilometer, the village has a history of nearly 1,000 years. Many of the buildings were constructed during the Ming (1368-1644) and Qing (1644-1911) dynasties, including schools, temples, shrines and sculptures.
It was listed as a top 10 destination for countryside tourism in Jiangxi in 2006 and a national 4A-level sightseeing area in 2007. It is also one of the first provincial-level historic and cultural villages in Jiangxi.
The village is beside the Fushui River and home to 28 ponds that interconnect with each other. Local residents believe the ponds represent the 28 constellations in the heaven in traditional Chinese legends and protect the village.
Meibei attracted about 50,000 tourists in 2011. That number increased to 80,000 in 2013 and it welcomed more than 100,000 visitors in 2014. Most of those tourists were domestic, but about 10 percent came from overseas.
The government of Wenpi township, to which the village belongs, has founded a company to manage tourism in the village. It has invested more than 8 million yuan ($1.2 million) since 2006 to improve the village's infrastructure in fields including transportation, service facilities and safety.
A tourist center has been established with a lounge, an information office and reading areas. Tourists can also file complaints through a hotline.
An annual tourism cultural festival has been held in Meibei since 2003, at which forums and seminars have been held to discuss protection of the ancient village.
Local folk custom performances have been included in provincial and national cultural and art festivals.
The local authority also participated with the Shenzhen radio station to organize driving campaign to attract travelers from Guangdong province, Hong Kong and Macao.
The government compiled a series of regulations in 2007 to ensure that tourism develops with protection. New residences are not allowed without permission, and buildings with different fashions from the ancient village will be redecorated.
Cultural heritage protection is also part of an education plan for local students. Primary and middle schools in the township often organize visits to the village, teaching the students to treasure the cultural relics and protect the natural environment.
To preserve the ancient village while improving living conditions, many villagers have moved to newly built apartment buildings outside the village since 2013.