Where culture and climate collide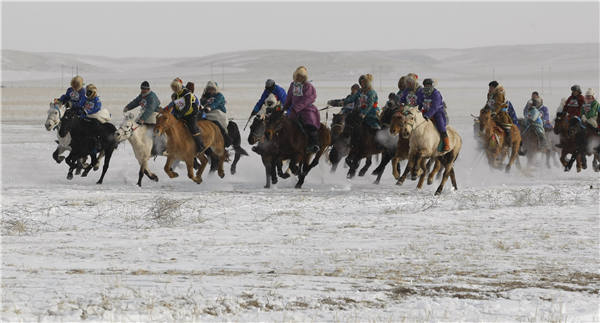 Winter nadam in Xilin Gol League, the Inner Mongolia autonomous region, features a variety of folk sports like horse racing, wrestling and rodeos. Photos by Ma Jianquan/For China Daily
Inner Mongolia's ethnic customs fill the landscapes that sired them. And their true colors come out when the terrain is pelted with white. Yang Feiyue and Yuan Hui report.
Want to see a wintertime camel pageant? Or dance in snow among nomads' sheep? Maybe live like an ethnic Mongolian herdsman? Or view a meteor shower from a place that feels like the North Pole? (It's not too far away.) How about wrestle herders on frigid prairies? Perhaps ice fishing and feeding reindeer? Wintertime is party time in the Inner Mongolia.
The cold season is when the mostly ethnic Mongolian autonomous region stages celebrations of culture and climate that lure throngs of outsiders hoping to experience unique customs and landscapes-and stay as warm as possible.
Visits have grown around 20 percent annually in recent years, Inner Mongolia's tourism administration reports.
About 15 million tourists generated 30 billion yuan ($4.7 billion) in truly cold, hard cash last winter.
But expectations are higher this year, since China won the bid to host the 2022 Winter Olympics, bringing interest in midwinter activities to a fevered pitch.
And local tourism authorities have been promoting winter travel's cultural dimensions, including folk sports like camel racing, wrestling and rodeos.
Winter tourism diversifies travel opportunities, says the National Tourism Administration's international department's deputy director, Fan Wenming.
Hulun Buir prefecture will host 12 winter celebrations starting this month.
Visitors can watch meteor showers, camel training and equestrian performances.