Inner Mongolia develops winter travel routes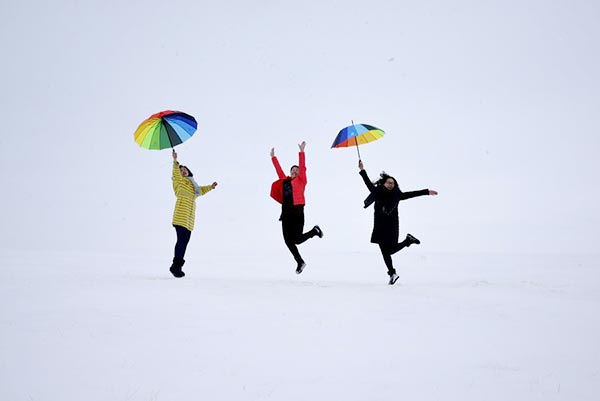 Tourists dance on snow in Inner Mongolia autonomous region on Nov 27. [Photo/Xinhua]
The Inner Mongolia autonomous region announced seven winter-tourism itineraries in Beijing on Dec 1.
Routes include Arxan's hot springs; Ulanhot's folk customs and prairies; Hexigten's geology; and Alxa's deserts.
Inner Mongolia's winter tourism focuses on the fusion between landscapes and the customs of the people who dwell on its unique terrains.
Visitors can enjoy not only more conventional seasonal activities, such as viewing ice sculptures, skiing and playing hockey, but also try horse racing, wrestling and camel riding.
The autonomous region will host Hulun Buir's Ice and Snow Festival, the China-Russia-Mongolia beauty pageant and a steam-locomotive photography competition.
The event was attended by the National Tourism Administration's international department's deputy director, Fan Wenming.
Related:
Inner Mongolia races to preserve threatened cultural heritage
Artistic handkerchiefs raise money to plant trees in Inner Mongolia