Shanghai's 1,000-year-old leaning tower surpasses Pisa's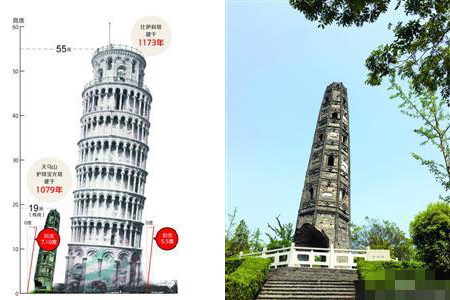 This combo photo shows a comparison between the Leaning Tower of Pisa (L) and the leaning tower in Shanghai.
If the leaning tower is synonymous with the Italian city of Pisa for world travelers, a nearly 1,000-year-old structure on Tianmashan Mountain in Shanghai is giving it a run for its money.
The octahedral tower, built in 1079 during the Northern Song Dynasty (960-1127), has seven levels and is about 20 meters high. Originally used to store Buddhist relics, the building was subject to a series of damaging events that left only the brick tower remaining.
The tower leaned to the southeast at an angle of 6.51 degrees in 1982. The top of the tower was displaced horizontally by 2.27 meters from where it would have been if the structure were perfectly vertical. A new survey finds it now leans at an even further angle of 7.10 degrees.
Ruan Yisan, a professor of urban planning at Tongji University, said the tower has a history of nearly 1,000 years and is a cultural root of Shanghai, and deserves better protection.
Li Kongsan, an official at the cultural heritage bureau of Shanghai, said the city inspects the tower twice a year and that the leaning is under control. The main body is not damaged but the exterior is deteriorating and has cracks, Li said. The external walls of the tower will undergo repairs in the latter half of the year, he added.
The tower surpasses the Leaning Tower of Pisa in terms of age and tilt, according to a tourism official in Shanghai. The tower was enlisted as a cultural relic by the Shanghai government in 1983.
Experts believe the tower's tilt is caused by its foundations sitting on two different surfaces - one side is on the mountain's bedrock and the other side on stone ballast.