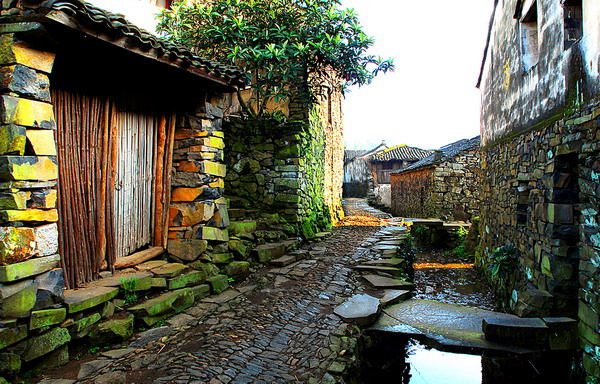 Xujiashan's basalt rock houses are part of the well-preserved architecture forming one of the main attractions of the ancient mountainous village. Xu Peiliang/ for China Daily
'Copper rock' homes of Xujiashan village help traditional way of life become top tourist draw
Xujiashan and Qiantong are two ancient mountainous villages with rich cultural heritage in Ninghai county, Zhejiang province.
Xujiashan village has been both lucky and unlucky. Located in a remote area in Ninghai, a mountainous county in East China's Zhejiang province, Xujiashan used to be one of the least developed villages in the area. While people in other villages had left their traditional stone houses and moved into concrete apartments, Xujiashan residents were too poor to make the change.
But because of its poverty, Xujiashan became one of few villages in Ninghai to retain its traditional way of life that also helped turn it into a famous tourist destination.
In 2003, when the local tourism administration launched a survey on tourism resources, people realized that the small village, home to 720 people, had the most well-preserved stone houses in the province.
Basalt rock, a common building material in the 700-year-old village, is also called "copper rock" by the locals because of its bronze color and the mental sound it gives out when people knock on them.
More than 270 houses in the village, many of which are older than 100 years, are made with the material.
Residents had dug out rocks near the village and left deep holes in the ground, which later become ponds and small reservoirs.
With modern running water systems, the village no longer needed the ponds as a water source. Lotus flowers now abound in them and occasionally, villagers wash clothes in the water. The sound of them rinsing and wringing their laundry can be heard far away in the quiet village.