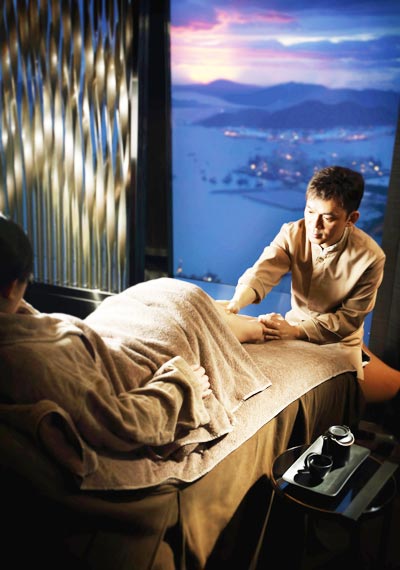 Felix Wong is the only male masseur at The Ritz-Carlton Spa by Espa. Photo provided to China Daily
Profile | Felix Wong
Masseur Felix Wong has been kneading Hong Kong's leading VIPs and celebrities for more than two decades. And he knows discretion is the better part of valor.
Though he has pummeled the prone torsos of countless celebrities and dignitaries over the past 26 years, he refuses to kiss and tell.
"Whether they are male or female, Chinese or Western, I look at their bodies as a doctor might," says the only male masseur on the team at The Ritz-Carlton Spa by Espa in Hong Kong's highest hotel.
"I don't distinguish between VIPs and regular customers - just whether they have a large or small body, and how to give them a massage that they will enjoy."
Wong has spent his entire career in Hong Kong's best hotels, starting as a teen working as a bellboy in The Peninsula Hong Kong. When he was in his 20s, he moved across the harbor to the now demolished Hilton Hong Kong to work in its concierge.
"At that time, spas were called health clubs," Wong recalls. "My manager was also the health club's trainer. He asked me if I wanted to learn massage techniques. Hilton had a Shanghai masseur who taught me how to find the correct pressure points and other traditional techniques."
In the late 1980s, there were no spa academies in Hong Kong. Treatments were taught from master to disciple in an intimate, one-on-one relationship. The disciple's rigorous training included many days of practice before he was allowed to perform a treatment upon a paying customer.
Now that he is in his 50s, Wong has a tried-and-tested methodology that he adjusts to suit each person. He also tweaks it to suit The Ritz-Carlton's standards.
He banishes the myth that deep tissue massages have to hurt. "I often have to explain that the no pain, no gain rule doesn't apply to massages. Japanese customers are difficult to convince otherwise," he says.
"I use a combination of my hands and wooden sticks with rounded tips. Both require skill, with different results.
"It's a tough job," he confesses. "You work long hours, usually 10 hours a day. The work is demanding and requires a great deal of stamina. A masseur reaches his prime in his 30s - that's when he has both technique and the strength to execute it expertly.
"It's hard to attract young people from the community," he sighs.
"Many kids today are looking for desk jobs."