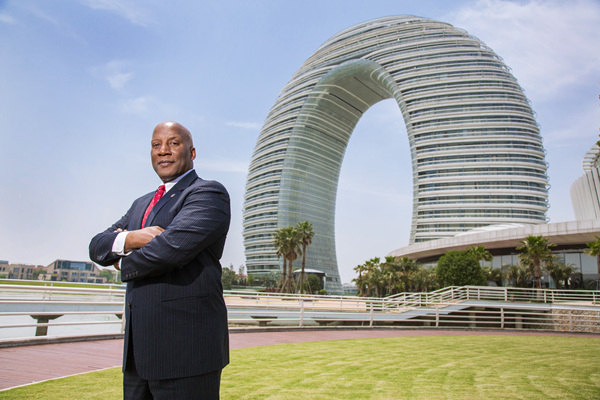 Sheraton's global brand leader Hoyt Harper says the brand has one hotel slated to open every three weeks this year in China. Photo provided to China Daily
"As the first international brand to enter China, Sheraton has been growing at a phenomenal pace. China continues to drive the brand's future pipeline growth, with one hotel slated to open every three weeks this year," says Hoyt Harper, global brand leader for Sheraton Hotels and Resorts Group.
Sheraton will be adding five more operations to its current portfolio of 15 in China over the next three years. Four of them, including Sheraton Diqing Resort, Sheraton Sanya Tufu Bay Resort, Sheraton Ningbo Xiangshan Resort and Sheraton Beijing West Mountain resort, are scheduled to open by the end of next year, according to Harper.
With the recent completion of its signature Mystic Spa and Hot Spring Village, Sheraton Huzhou Hot Spring Resort, located on the southern bank of Taihu Lake in Huzhou city, Zhejiang province, boasts 101 individual hot spring pools and jacuzzis across a spa complex covering an area of 20,000 square meters, which is nearly the size of three soccer fields.
The hot spring pools and jacuzzis include 39 private guest villas, eight spa chalets and 21 treatment rooms housed in the spa complex adjacent to the iconic Sheraton Huzhou's ring-shaped main building, which has already chalked up more than 300 million media impressions, according to Harper.
The 27-storey building, slated for completion in December 2014, consists of two curved towers.
"The circular shape symbolizes unity, wholeness and infinity in Chinese culture and resonates with Sheraton's positioning as 'the world's gathering place'," says Claudio Nardini, general manager of the resort.
"It's set to be one of the most architecturally innovative designs in Sheraton's global portfolio. The cutting-edge design has earned its reputation as a modern icon of Huzhou."
Although Sheraton's 15 existing resorts from icy Changbai Mountain in the Northeast to tropical Sanya in the South have more than surpassed the sum of resort offerings from other competitive international brands, such as Hilton, Hyatt Regency and Marriott, the hotel brand is in full operation to develop new resort products.
"Our resorts aim to meet the demands of an increasingly affluent local market that have the means and desire to travel in addition to riding on the trend of leisure travel in China," says Harper.
Hotels are facing saturation points in big cities but the first-move advantage in the country's secondary and tertiary markets gives Sheraton opportunities, Harper says.
Sheraton currently has 63 hotels and resorts in the country, and 42 in the pipeline, most of which are in second- and third-tier cities.