Wyndham's colorful Yunnan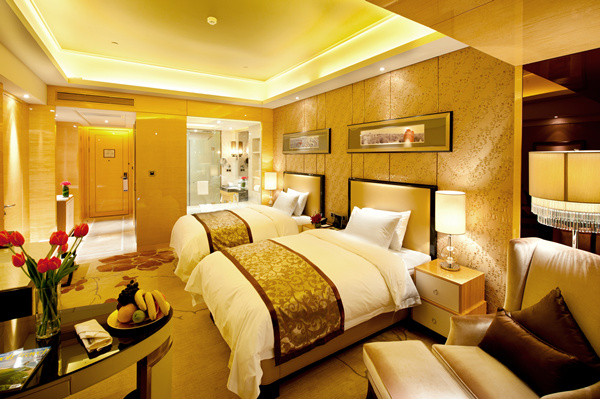 Wyndhamhas set its own standards inside the guest rooms. It offers a selection of pillows, such as buckwheat, rose and lavender pillows. Photo provided to China Daily
It may have the longest name for a hotel in the country, but this establishment is also set to elevate service standards in Kunming, as Guo Anfei and Li Yingqing report.
Wyndham Grand Plaza Royale Colorful Yunnan Kunming is quite a mouthful. A guest once jokingly declared that it should apply to be listed in the Guinness Book of World Records as the hotel with the longest name, laughs general manager Edward Fan.
"Our core competitiveness lies in the considerate service, such as takeaway breakfast and a light supper in the evening, shoe cleaning and the fitness center. We also offer seven types of pillows and choices of hard or soft beds," Fan says.
Fan says down pillows are placed in the rooms, but guests can also choose from buckwheat pillows, memory foam pillows, rose pillows, lavender pillows, neck guard pillows and so on.
There are also different mattresses to choose from, given that Chinese guests prefer hard beds, while foreign guests prefer softer mattresses.
Fan believes that successful marketing means having happy customers, who will actively spread the word.
For instance, for guests who have to leave hotel at dawn to catch early-morning flights, breakfast is packed for them and guests can choose from a menu that includes boiled eggs, bread, fruits and drinks.
Late-night check-ins after 11 pm are offered tea and supper.
Wyndham has set its own standards inside and outside the guest rooms.
The moment guests finish checking in, they are offered a cup of tea, with various infusions that change every day. If pu'er tea is served today, then chrysanthemum tea is on the menu tomorrow and longjing tea the day after.
"When the weather gets hotter, we will provide fruit juice, tea and other drinks, such as orange juice, grapefruit juice, apple juice, watermelon juice," Fan says, adding that the aim is to make guests feel at home.
Fan says there are quite a few guests who enjoy golf in Kunming. That is why the Wyndham offers a special golf takeaway meal pack with cookies, two bananas and a bottle of vitamin water to give the golfers the energy they need.