Hong Kong holiday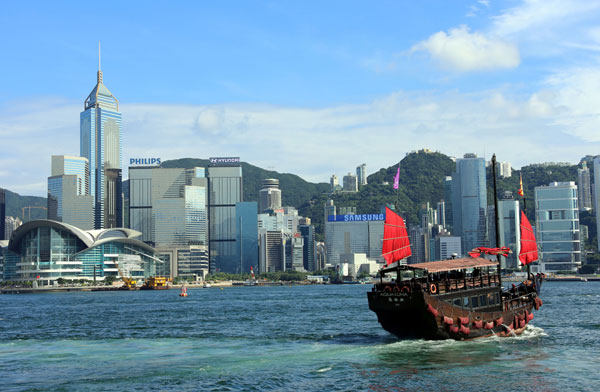 A good way to feel Hong Kong's vitality is to take a boat ride across Victoria Harbor.[Photo by Li Peng/Xinhua] 
On a weekend getaway to the island, Margaret McKenzie enjoys great food, Disney magic and her own Bond Girl moment.
Whether it's a long layover between flights or a two-day respite from day-to-day life, 48 hours in Hong Kong can put a spring back in one's step - even if you're stepping up one of the city's notoriously steep inclines.
If the weather gods are smiling, you'll be able to scale mountains, enjoy a dip in the ocean, ride a wild roller-coaster and dine al fresco under the stars, all in the space of one short weekend.
As a US expat who has spent most of my life on one coast or another, I was experiencing serious sea-breeze withdrawal after six months in Beijing.
Thus, stepping out of Hong Kong's airport heading to the Le Meridien Cyberport Hotel on the island, I am instantly back in my happy place, as the verdant hills, flower-bedecked trees and moisture-laden air greet me warmly.
I'd been advised to opt for the bus as opposed to the airport express train on this, my first visit to the city: The A-10 offered tiers of seating and breathtaking views of the harbors, islands and peaks that make Hong Kong so beautiful. Not only that, but at HK$42 ($5.42), the fare is less than half that of the train, though the bus takes a little longer.
I come armed with a wish list for the weekend, starting with dipping my toes in the waters of Repulse Bay or Stanley Beach. So after check-in I take another bus to Repulse Bay.
Though the lifeguard stations are reassuringly stationed every 10 meters or so, the only one wading in the bracingly cold water is me. Everywhere I look is a postcard-worthy vista, and the strand is dotted with sightseers in street clothes capturing the awe-inspiring beauty with their cameras. Just south of the luxury high-rises encircling the bay are the red-and-yellow pagodas and bridges of Tin Hau Temple, whose statues are dedicated to protecting the local fishing fleet.
Next I take the tram to Victoria Peak, which affords a panoramic though occasionally hazy view of the downtown. A quick cab ride later, I land in Central, where I drop coins in a token machine and soon climb aboard the famous green-and-white Star Ferry, which in a mere 10 minutes deposits me at upscale Kowloon and its glitzy malls.
After a stroll, I opt to dine at the Greyhound Cafe near the harbor, a trendy Thai chain with branches in Hong Kong, Shanghai and Beijing. Its tasty Waterfall Grilled Lamb, served on skewers and washed down with an ice-cold Singha beer, hits the spot and gives me the energy to find my way back to the hotel.