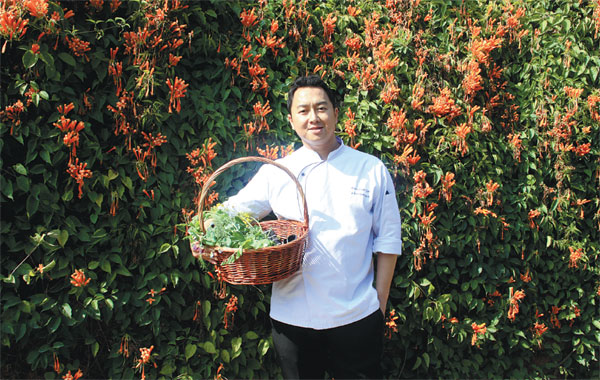 Allen Stevano, executive chef of Le Meridien Xiamen, is a firm believer in fresh, organic, sustainable and seasonal. Photos Provided to China Daily
General managers, food and beverage directors and executive chefs are taking up the clarion call of serving food that is fresh, local, organic, seasonal and sustainable. Pauline D. Loh tracks the trend.
Allen Stevano is in China for the first time, but the Indonesian executive chef of the Le Meridien in Xiamen is adapting like fish to water and finding his comfort zone in the kitchen garden. Like many of his counterparts working in international hotels all over China, Stevano is a keen advocate pushing for produce that is fresh and organic, seasonal and sustainable.
It is a movement gathering momentum in the hotels, who are among the largest commercial consumers for fresh produce from the markets.
The organic push is in itself a result of doubts that surround much of what is produced in China, where chemical fertilizers and enhancers are often used indiscriminately to make vegetables and fruits grow larger, prettier and more perfectly, often at the cost of taste and safety.
Stevano sums up the food philosopy at Le Meridien Xiamen as a commitment "to cater to our guests with the best produce available, process it with respect and love, and to deliver it with exceptional service".
He adds that his hotel is blessed with an understanding owner who allows the staff to use large plots of land on the foothill just behind Le Meridien.
"We plant vegetables like cauliflower, spring onions, zucchini, radish, tomato, chili and many more. And they are all organic, according to our owner's intention to keep the land for his own organic fruit and vegetables."