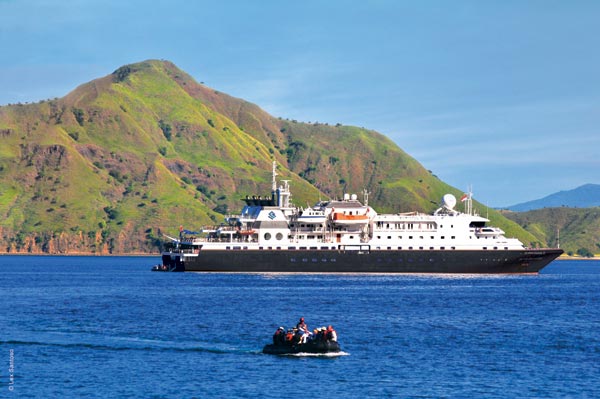 Silver Discoverer is the Silversea's third expedition ship, which will embark on her maiden voyage from Broome to Darwin on April 2. [P hoto provided to China Daily]
Silversea Cruises recently held a christening ceremony for its third expedition ship in Singapore and eagerly expects to grow its presence in the emerging Chinese cruise market.
The new ship, Silver Discoverer, has 62 suites, all with ocean views and outfitted with in-suite bars, walk-in rainforest showers and luxurious contemporary bathrooms, enhanced with rich marble detailing. Large mattresses topped with luxurious Pratesi bed linens enable good sleep during long explorations.
Silversea's senior executive team and company chairman Manfredi Lefebvre d'Ovidio said, "With itineraries encompassing some of the most fascinating and remote regions of the Pacific, Silver Discoverer will take our guests to places where few people have ever set foot — offering incredible opportunities not just for travel and learning, but for life-enriching cultural experiences."
The christening of the 5,218-metric-ton ship was held on Tuesday at Singapore's New Marina Bay Cruise Center, and was the first ship christening to take place in Singapore for more than 20 years. The ship is due to embark on her maiden voyage from Broome to Darwin on April 2, exploring Australia's spectacular Kimberley Coast. Although no Chinese passengers will be on the maiden cruise, Silversea has high expectations for the Chinese cruise market.
"A double increase is expected in our customers from China," said Steve Odell, president of Silversea Europe, Middle East, Africa and Asia Pacific. In May, the cruise line will run a three-week campaign in China, including road shows, to promote their business in the market.