Panda cub makes public debut at Taipei Zoo
Nearly 19,000 visitors clamor to see six-month-old Yuan Zai eat and sleep
The first giant panda born in Taiwan charmed thousands of excited fans on Monday and boosted the local economy when she made her long-anticipated public debut at Taipei Zoo.
Six-month-old Yuan Zai entertained visitors by lumbering up and down a wood log in her enclosure and nibbling carrots and bamboo, while mother Yuan Yuan munched bamboo nearby.
After about 30 minutes, Yuan Yuan held the cub in its paws to feed her. The cub, who currently sleeps 20 hours a day, fell asleep soon after the meal.
According to zoo authorities, about 1,200 visitors waited outside the zoo on Monday morning, including some who traveled from southern Taiwan.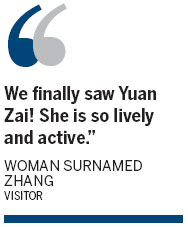 "We finally saw Yuan Zai! She is so lively and active," said a woman surnamed Zhang. She and her daughter had waited in line for an hour and a half.
Taipei authorities have estimated Yuan Zai will bring in NT$500 million ($16.5 million) of revenue in the coming six months.
The city has authorized the sale of more than 30 products carrying the image of the baby panda, ranging from folders to cell phone cases and baby strollers.
Yuan Zai was born on July 6 following a series of artificial insemination sessions. Her parents, Tuan Tuan and Yuan Yuan, failed to conceive naturally.
The two giant pandas, whose names together mean "reunion" in Chinese, were given as a goodwill gift to Taiwan by the mainland in 2008. They have since become stars at the zoo and a symbol of warming ties between the mainland and Taiwan.
"Politics seemed to be about the last thing on the minds of Yuan Zai's fan base on Monday as again and again visitors' faces lit up with broad smiles amid giggles of glee and repeated cries of 'how cute' or 'how beautiful'," AP reported.
To control the flow of the crowd gathered to see the cub, every group of 400 visitors was limited to 10 minutes in the viewing area.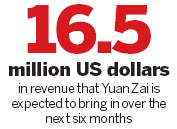 The zoo's spokesman Chao Ming-chieh estimated the number of visitors exceeded 19,000 on Monday and will peak this weekend.
A large group of reporters also flocked to the zoo, with more than 10 broadcast vans parked outside.
Taipei Mayor Hau Lung-bin has asked passionate visitors not to frighten the cub with camera flashes or slapping on the glass. The audience was basically in good order on Monday.
Experts from the mainland said Yuan Zai is in good condition, according to Chao. He said the cub now mainly feeds on her mother's milk and will learn to eat complementary food later.
The zoo will work with the mainland to find a mate for Yuan Zai when she is 2 or 3 years old, Chao added.
Yuan Zai and her mother were separated for a few days after birth. Zookeepers raised the cub in an incubator after she suffered a slight leg injury.
When they reunited on Aug 13, Yuan Yuan licked and cuddled her baby before they fell asleep together.
AP, AFP and Xinhuacontributed to this story.