Spring Festival getaways in Beijing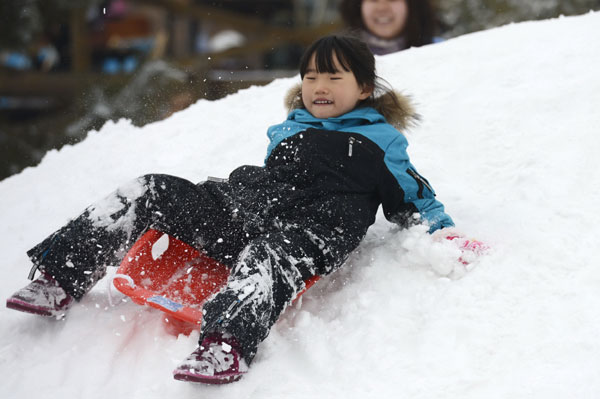 A child plays at a ski resort in Beijing. Light snowfalls are expected in the capital during the Spring Festival holiday, making ski resorts a popular choice to have fun. Wei Xiaohao / China Daily
Hit the slopes
Keen skiers and amateurs will enjoy a visit to one of Beijing's many ski resorts over the winter, especially when snow falls in the capital and results in better ski conditions. You can entertain yourself by skiing and participating in snow activities, or just sitting in a cozy bar and appreciating the scenery over a cup of coffee or tea.
Where: Bird's Nest Stadium; call 010-8498-6888.
Nanshan Ski Resort in Miyun county; call 010-8909-1909.
Badaling Ski Resort in Yanqing County; call 010-6912-9922.
Getting there: Take the No 82/538/611 bus for Bird's Nest Stadium and get off at National Stadium East stop. Or you can take the subway's Line 8 to Olympic Sports Center.
Ice lanterns
About 2 km from the Great Wall at Badaling, gorgeous ice lanterns light up the night sky. After dinner, take a walk around streets lined with 350 colorful lanterns of various shapes, depicting Chinese palaces, Disneyland castles, trees and fairies. If you're feeling adventurous, you can also take part in activities such as ice slides.
Where: Longqing Gorge Ice Lantern Festival in Yanqing county; call 010-6919-1020.
Hot springs
After tiring days working or touring, nothing is more pleasant than resting and bathing in hot springs. Many hotels around the city have hot spring spas. You can also stay at the hotel for a night to escape busy city life.
Where: Nangong Hot Spring Water World in Fengtai district; call 010-8331-6030.
Rylinwon Resort and Spa in Shunyi district; call 010-8149-2286.
Getting there: Take the No 458/459/951/836 bus for Nangong Hot Spring Water World.
Take the No 15/18/19/20/23/24/28/33/39/40/41/45 bus for Rylinwon Resort and Spa and get off at Qianxuegezhuang stop.
Taste of spring
Are you a little bored with the white snow in the streets? Why not experience the colors and smells of spring a little early? There are many greenhouses and parks where you can appreciate beautiful flowers or pick fresh fruit such as strawberries in the winter.
Where: Strawberry picking in Baohezhuang, Xiachang or Gongyizhuang villages, Fangshan district; call 137-0130-8731 (Baohezhuang), 135-0120-4098 (Xiachang), 138-1098-0663 (Gongyizhuang).
Beijing Flowers of the World Garden in Fengtai district; visit gowf.cn.
Getting there: Take the No 646/377/566 for Beijing Flowers of the World Garden.
Around the world
International activities will be held in Chaoyang Park for foreigners as well as Chinese who are seeking a different experience. Food and drinks such as coffee and wine from around the world will be available for visitors while they enjoy exotic performances. Embassies will take part in the gala and offer snacks.
Getting there: Take the No 117/302/305/406 bus for Chaoyang Park. Or you can take the subway's Line 10 to Tuanjiehu station. Call 010-6506-7723.
- Zheng Jinran