Spring Festival travel guide: Guangzhou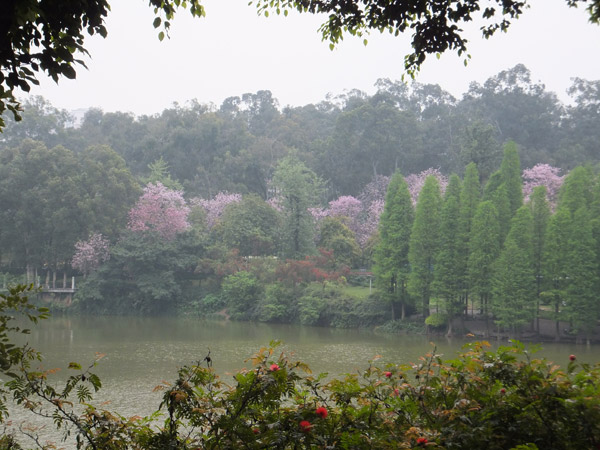 Luhu Park [Photo by Xu Jingxi/Chinadaily.com.cn]
Going green
There's nothing better than a walk or cycle along an idyllic lake. A large Lingnan-style garden expo is being held during Spring Festival around Gualu Lake in Zengcheng, a city about an hour's drive from downtown Guangzhou. The expo features flowers and lanterns, as well as traditional landscaping.
Getting there: Take the Guangzhou-Zengcheng shuttle bus at Tianhe Coach Station (every 20 minutes) to Zengcheng. After the one-hour bus trip, take a taxi to the lake, which is close to the Zengcheng government's office building.
Flower power
Visiting flower fairs has a time-honored place in Cantonese-speaking areas during Spring Festival. This year, Liwan district has moved its regular street fair next to its lakes and canals. From Feb 7 to March 13, visitors can walk along the banks to see and buy flowers and other gifts. There will also be a parade by a flotilla of flower boats three times a day.
Where: Lychee Bay and Liwan Lake Park.                                                                                  
Drinking it in
On the southern bank of the Pearl River, opposite Zhujiang New Town, is the Zhujiang InBev International Beer Museum. Its glitzy appearance makes it look like a beer barrel guarded by two colorful glass buildings. There is a European-style pub that provides free beer down the stairs on the first floor. Grab yourself a bottle.
Where: 118 Modiesha, Xingang Road East, Haizhu district.           
Guangzhou Opera House is hosting an exhibition on the long-standing links between art and fashion brand Chanel. The event is based around five themes: Breathe, Move, Love, Dream and Invent. Among the pieces on display are about 30 previously unseen drawings by Pablo Picasso, from a private collection.
Where: Guangzhou Opera House, Zhujiang New Town, Tianhe district.
Village people
Xiaozhou Village was built at the end of the Yuan Dynasty (1271-1368) and stands on the city's southern outskirts. It is a place characterized by classic Cantonese community landscapes and modern art, and has borne witness to all the city has been through. Landscapes include canals, well-kept buildings, bridges and country roads. Cafes and shops provide a respite.
Getting there: Take the subway's Line 2 to Nanzhou and transfer to the No 35 or No 86 bus. Get off at Xiaozhoucunkou stop.
- Qiu Quanlin