City with beauty and age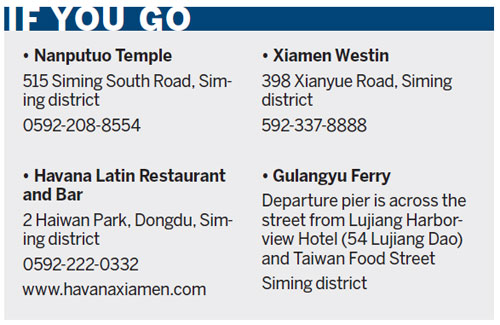 Verpoorten worked in Sanya in the past and says Xiamen has an edge over that sun-and-fun destination. "On Hainan Island, when you're done at the beach, there's not much to do. Here, a lively city awaits."
Entertainment options include an intriguing jade museum, where a terrific English-speaking guide showed us everything from dainty miniatures to a massive jade head with bulging square eyes.
You can stroll and eat your way along Taiwan Food Street, one of several lanes with enticing local delicacies, starting with hot-off-the-grill oysters bubbling with garlic, chopped tomato and sea salt.
You'll find tea "shops" that have brewed regionally grown leaves in the same ceramic vessels for a century. Fujian province is China's main producer of the famed oolong teas.
Laid-back vendors will slice off servings from jackfruits the size of a wall safe, and rose apples - those hot-pink, bell-shaped fruits - are offered three on a stick for about 5 yuan (80 cents).
There's a strong bar and restaurant scene, too, but skip the guidebook-touted Guanren Road Bar Street - a shadow of its once-lively self - and head for the new hotspot: the waterfront strip at Haiwan Park.
Popular hangouts there include the Me & You 2 Bar & Pizza Co, the Havana Bar, JJ's Texas and Steve's, all with live music from spot-on Filipino cover bands. We also liked the food, cigars and music at the Westin's Cuba-themed Qba, where a lively live band from Havana plays six nights a week.
Culture vultures shouldn't miss the Nanputuo Temple, first constructed during Tang Dynasty (AD 618-907). The nearby vegetarian restaurant Dafang Sucaiguan is nearly as famous as the temple itself among the patrons, with dishes that are colorful, tasty and poetically named.
Xiamen University, colloquially known as Xia Da, is the first university in China founded by overseas Chinese in 1921. Backed by green hills and fronted by the sea, its elegant architecture and tree-lined streets make it a treat to explore the grounds on foot.
And then there's that must-do daytrip to Gulangyu islet, a 10-minute ferry ride away. Shuzhuang Garden includes a pleasant bathing beach and the Piano Museum, which features more than a hundred instruments of historic interest from around the world.
Under the influences of European missionaries, the piano has long been popular among locals - one out of every three residences is said to have one - and the island also boasts a famous music college and an organ museum.
Daytrips often turn into overnighters on the islet, and hundreds of beds are available in "home-stay hostels". Some are fully operating bed-and-breakfasts, while others may simply be a bedroom in a busy multi-family dwelling. But even the latter are generally pleasantly renovated with Western-style plumbing and an ambience from bygone days.
If you are a museum fan, you may need an extended stay in Xiamen. Besides the shrines for music and jade, there are museums dedicated to Koxinga, coins, bridges, overseas Chinese and anthropology.
If shopping is your thing, check out the Buy Now Electronics Market for the latest gadgets, and Gulangyu's market streets for souvenir samples of tasty dried meat and fruit, pies and milk-tea cafes. We were gobsmacked by surfboard-sized dried eels, but before you grab one remember they won't fit in the overhead bin if you're flying home.
Xiamen is gearing up to become an aviation hub, with the fourth terminal at its Gaoqi International Airport scheduled to open in June 2014, Business Traveler Asia reports.
In 2012 the airport received about 17 million passengers, and the new terminal will be able to handle 20 million alone.
International trade is nothing new to Xiamen. The first German company to settle in Xiamen in 1854 was Pasedag & Co, notes Stefan Gallon, the consul general of Germany in Guangzhou. International brands with big Chinese markets, such as Denmark's Ecco and US computer-maker Dell, have long-established manufacturing in Xiamen.
Xiamen's waterfront ferry terminals are also expanding, to more easily accommodate the crowds of passengers who line up for tickets to Gulangyu and the nearby islands of Taiwan.
Tourists who come seeking coastal sun, mild temperatures and Fujian cuisine are a major boost to Xiamen's economy, but even the visitors complain about the crowds in summer.
Contact the writer at michaelpeters@chinadaily.com.cn. Sun Li contributed to this story.