Xiamen economy thrives on culture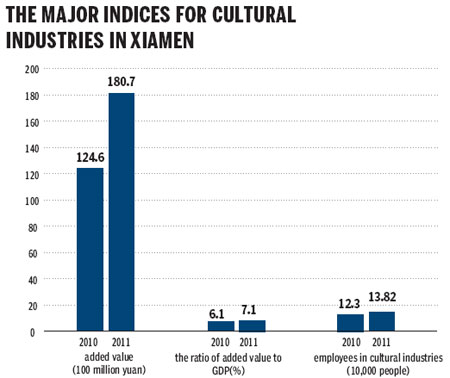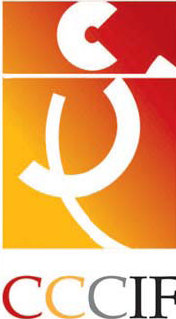 After several years of accelerated development, cultural industries are poised to become a major driver of the economy in Xiamen, East China's Fujian province, local officials said.
Official statistics show that the added value of the city's cultural industries reached more than 18 billion yuan ($2.9 billion) in 2011, a 45.1 percent surge year-on-year, accounting for 7.1 percent of the city's GDP.
The figure hit 8.95 billion yuan in the first half of 2012, a 26.2 percent rise compared to the same period last year, with the number of employees in these sectors totaling 143,200.
"Xiamen is now among cities that boast the most competitive cultural industries," said Xu Xiangming, deputy director of Xiamen's cultural bureau.
According to a report issued by Taipei's Cultural Creative Industry Association, Xiamen ranked ninth in cultural and creative competitiveness nationwide in 2011.
Cultural industries are projected to generate more than 40 billion yuan in added value annually by the end of 2014 and become an "important engine" to fuel the city's economy, Xu said.
Eight sectors prioritized
To realize this goal, the Xiamen city government has decided to prioritize eight cultural sectors over the past few years.
On top of the list are the animation and online game industries, Xu said.
To better boost their development, the Xiamen Software Park has earmarked a 160,000-square-meter zone for the industries, including such resources as motion capture systems and audio extractors that are available for public use.
Now a national animation industrial base, the park has attracted dozens of animation companies, including local ones such as G-Bits and Blue Bird Cartoon and companies from Taiwan, such as CGCG, according to the website of the software park.
The park is also home to many online gaming companies, including the Youjia Network, which generated 487 million yuan in sales revenue in the first half of the year, a nearly 30 percent rise compared to the same period last year.
Youjia Network and another two companies in the park have also been included on the list of major national export-oriented cultural enterprises, according to the park's administrative committee.
Culture-themed tourism has also started to boom in Xiamen. The coastal city, known for sightseeing, is growing into a popular destination for exhibitions and related cultural events, such as the Cross-Straits Cultural Industries Fair, according to local government officials.
Established in 2008, the fair is now "the most important platform for improving cultural exchanges across the Straits", said Huang Qiang, deputy mayor of Xiamen.
Over the past four years, the annual event has attracted a total of 2,451 exhibitors, of which 827 are companies from Taiwan, and more than 400 deals totaling 60 billion yuan have been signed, according to statistics from the event's official website.
Other events Xiamen has hosted in recent years include the China International Piano Competition, the Cross-Straits Book Fair, the International Animation Festival, the Cross-Straits Folk Arts Festival, and the Zheng Chenggong Cultural Festival.
Local officials said the city has also launched an effort to build cultural theme parks and introduce cultural performances, which will attract visitors, raise Xiamen's profile and help boost the city's economic development.
Another sector on the city government's list of development priorities is digital content and new media.
"We have good infrastructure to develop the industry" because Xiamen is among cities implementing a national pilot program for integrating telecom networks, cable TV and the Internet, Xu said.
Responding to rising demand for digitalized animation, China Mobile, the world's largest mobile phone operator by number of subscribers, launched its animation center in Xiamen in April 2010.
Now the center has 375 companies, which generated 90 million yuan in revenue in the first half of 2012, Zeng Dafeng, the center's deputy head, told Yangcheng Evening News, adding that revenue is expected to reach 300 million yuan by the end of the year.
Another two major telecom operators in the country, China Unicom and China Telecom, have followed suit to establish similar operations in Xiamen.
By combining modern art with modern means of communication, they will help build Xiamen into a base of digital content and new media that has influence throughout the nation and the world, Xu said.
The Xiamen city government has launched financial rewards to stimulate the development of cultural industries.
For example, companies that are listed by ministerial-level departments as demonstration bases can receive 200,000 yuan in funding from the city government, and major programs featuring participants from Fujian and Taiwan are entitled to zero-interest loans up to 1 million yuan for two years, according to a policy promulgated in 2008.
The government is also making efforts to enrich the talent pool for local cultural industries.
In addition to local training programs, it is attracting high-level professionals worldwide with a competitive package of benefits, local officials said.
Contact the writers at humeidong@chinadaily.com.cn and lifusheng@chinadaily.com.cn.