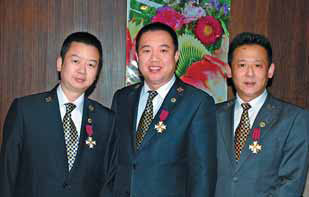 The gold medal winners: (from left) Li Zesheng, Lu Jun and Niu Jun. Provided to China Daily
Members of the Chinese chapter of Les Clefs d'Or, an international association of hotel concierges, gathered at the Eden resort hotel, Yibin, Sichuan Province, from Dec 7 to 10 for its 17th annual congress, where outstanding members were awarded and discussions were held on ways to enhance concierge services from a global perspective.
More than 500 representatives and executives from 382 high-end hotels in 94 cities throughout China and 10 other counties and regions worldwide attended the event, including 69 elites from Beijing hotels.
Hosted by a different Chinese city every year, the annual conference is meant to address the fast-growing demand in the nation's modern hotel industry and draw upon the rich experience of the international Les Clefs d'Or organization to foster globally competitive concierge services in China.
"I appreciate the dedication and service of those who worked together to hold this fabulous event," said Virginia Casale, president of Les Clefs d'Or, which is French for "the golden keys".
"China's hotel industry has the capacity to provide convenience in terms of human resources and advanced management skills, and its concierge service is at the forefront. I firmly believe that more and more professional concierges from here will join our society in the near future."
At the congress, various awards and medals were issued to members in recognition of their service, including the prestigious Les Clefs d'Or gold medal, which is only issued to members who have worked in the industry for more than 10 years. Newly joined members also enjoyed a round of applause at their oath ceremony.
Lu Jun, chef concierge of Intercontinental Beijing Financial Street, Li Zesheng , chef concierge of Marriot Hotel Beijing City wall as well as Niu Jun, chef concierge of Beijing Sunworld Hotel, were among the gold medal recipients this year.
Casale issued the gold medals and was accompanied by Sun Dong, president of Les Clefs d'Or China, Aldo Giacomello, honorary president of Les Clef d'Or, and Fred Lui, president of Les Clefs d'Or Asia.
Contact the writers at maxue@chinadaily.com.cn and zhaolin@chinadaily.com.cn.