Elderly migrants flock to Bama for fresh friendships, air and water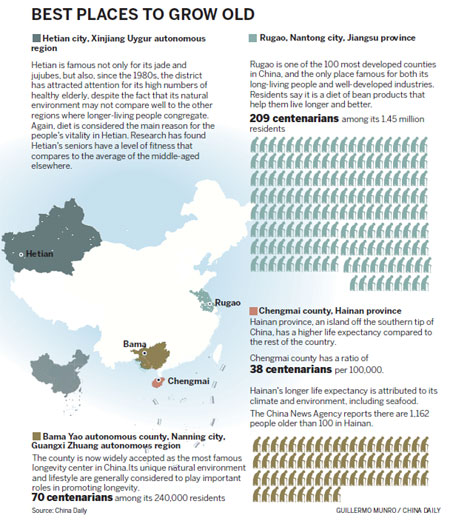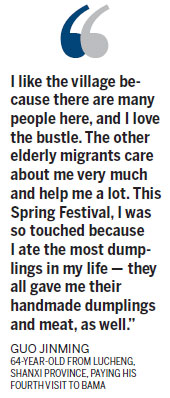 LiuLijuan gets up at 6 every morning to fetch water from a spring in the village, joining a line of many other elderly people. Liu is not local, and most of the others lining up for water are not either. They are the elderly migrants of Bama Yao autonomous county, one of the country's best-known longevity clusters in the Guangxi Zhuang autonomous region.
They come from all over China and have chosen to spend their retirements here. They gather in their thousands every year.
"It's a good place to keep healthy, as the air and water are good and the villagers are friendly," says Liu, who moved to Poyue village with her husband in August 2011 from their home in Harbin, capital of Heilongjiang province.
Like the rest of the silver migrants, they rent a 20-square-meter room where they can prepare meals. They spend 350 yuan ($56) a month on rent and another 900 yuan on daily expenses.
Like the rest of the retirees who have chosen to live here, Liu and her husband like to gather in front of the village's Baimo Cave to breathe in the air, which is warm in winter and cool in summer. They also draw water from the spring inside the cave to drink and cook with.
Liu says her high blood pressure has stabilized, while her husband, who suffers from brain atrophy, is improving.
Guo Jinming, from Lucheng, Shanxi province, is paying his fourth visit. He says his health has improved, and his diabetes is under control.
The 64-year-old still remembers that on his first day here, he drank a lot of water from the spring and enjoyed a good appetite. He also slept very well.
Guo does not need to rent from the locals because he lives in a specially modified three-wheel motor home, made to order at a cost of 16,500 yuan. In it, he has warm bedding, daily necessities, such as kitchen utensils, and musical instruments including a guitar and erhu (two-stringed fiddle).
"It's convenient to go anywhere I want, and I save on accommodation," says Guo, who has traveled around much of China in his "touring car".
He plays music for the other elderly visitors, who often dance and do tai chi to keep fit. Besides walking and watching TV, these pastimes keep them entertained in this secluded mountain village.
"I like the village because there are many people here, and I love the bustle. The other elderly migrants care about me very much and help me a lot," he says. "This Spring Festival, I was so touched because I ate the most dumplings in my life - they all gave me their handmade dumplings and meat, as well."
Longevity, it seems, is all about conviviality, sharing and, of course, the healthy air and water at Bama.
xulin@chinadaily.com.cn