Golden oldies of Hong Kong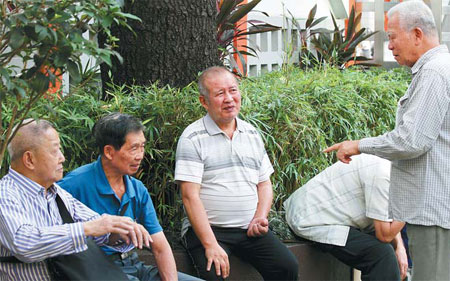 Elderly men chat at a park in Wan Chai, Hong Kong. Er Qizheng / China Daily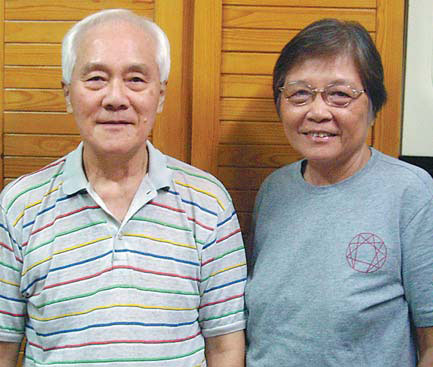 Fung Chi-chung and Wong Fai-fai at their home. Rebecca Lo / for China Daily
Hong Kong is now top of the world where longevity counts. Rebecca Lo spends a day with one elderly couple and shares their thoughts on how to stay happy and healthy.
As I leave the home of Fung Chi-chung and Wong Fai-fai, a black-and-white wedding photo in a glass cabinet catches my eye. Wong, barely out of her teens, is smiling shyly in an embroidered qipao while the lanky Fung has all the confidence of a young man at the start of his career.
Related: Long life isn't such a big riddle
Wong is much slimmer these days compared to when she was a bride.
"I never worried when we had a typhoon; I knew that I could just hang on to her and we would be fine," jokes Fung affectionately.
Wong, now 72, and Fung, aged 77, raised three children together in a Western District flat on Hong Kong island, where they still live. They are in their golden years, both healthy enough to enjoy their leisure time and financially secure.
Fung retired from his career as an accountant when he turned 60, while Wong has been primarily a housewife who did occasional work over the years to help supplement the family income.
Related: Living well better than living long
The Fungs may well be poster children for Hong Kong's senior citizens.
According to a press release dated July 31, 2012 issued by the Hong Kong Census and Statistics Department, life expectancy for males is 80.5 years and 86.7 years for females. That figure is projected to increase to 84.4 years for males and 90.8 years for females by 2041.
This year is the first time that Hong Kong women surpassed Japanese ladies, who long had longevity in the bag but slipped after last year's earthquake and tsunami. Hong Kong females now hold the world record for greatest life expectancy.
The numbers may seem surprising when factoring in Hong Kong's soaring pollution, cramped living conditions and meager old age security provisions. The most recent controversy is whether to implement a means test capped at an asset value of HK$186,000 ($24,000) and a monthly income of HK$6,600 ($852) for those aged 65 or above before receipt of an old age allowance.
At a paltry HK$2,200 ($284) per month, the allowance is dubbed fruit money.
"Many rich people will transfer their wealth to their children as soon as they turn 65 so that they can get their fruit money immediately," Fung acknowledges.
"I feel that the means test should be kept," Wong says. "Some people really need that money and others shouldn't cheat them out of their right to it."
"The Hong Kong government is very good to us," the husband says.
"Medical access for seniors is convenient, even though you may have to wait to see a doctor in public hospitals," the wife says. "It works both ways: Doctors will stay on top of patients conscientiously, and seniors usually take their doctor's advice."
"My arthritis used to be very painful and my doctor kept nagging me to treat it before it became too late," Fung says.
"I am glad that I did. Now, the only medication I require is for my blood pressure. And it's the same medicine in public and private hospitals, though you pay much less at the former."