Looking at new cycles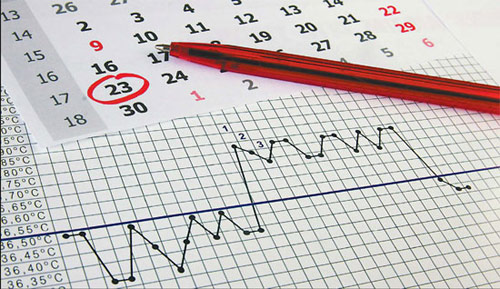 Chinese women are more cautious about taking contraceptives than their Western counterparts, although experts say they are a safe way to avoid pregnancy. Provided to China Daily
The arrival of a woman's period can now be reduced to a few times a year, and for many, this may be welcome news. But there are still too many questions that need to be answered before they will start buying the pills. Liu Zhihua examines the pros and cons of this latest contraceptive.
Related: Women can contribute to green efforts monthly
Chinese women are still pretty conservative when it comes to taking pills that interfere with their natural body rhythms. Even though medical experts say the effects can be easily reversed, most women in China are still wary of using a new contraceptive pill that will reduce their menstrual cycle to just three times a year. When Yaz Flex was launched in late September in Australia, the female population mainly welcomed the drug. In a newspaper poll, 54 percent of nearly 5,800 respondents voted in favor of the pill that will help family planning and allow menstruation only three times a year.
In China, however, the news of the launch has provoked heated discussion, with most people against its use, while some showed interest because it would take care of troublesome periods.
The contraceptive, produced by German pharmaceutical giant Bayer, comes in packs of 120 pills, and women who use it continuously will have three periods a year. It is the latest version of the existing monthly contraceptive pill Yaz and contains a combination of hormones that, over time, may help reduce acne, according to some reports.
On Sina Weibo, China's answer to Twitter, nearly 20,000 people forwarded a post on a Daily Telegraph report on the drug, with about 5,500 people adding their own comments.
Some took the news lightheartedly, saying it was good development for women, especially those suffering bad menstrual pain. But more were worried about the consequences of artificially skipping periods through medication.
"The drug will allow career-oriented women the choice to have children later in life. Besides, when there is no period, there is no menstrual pain," says Wang Mengqi, a 23-year-old woman working with one of the largest public relations companies in Asia.
"It is a great innovation, but I will not use it. It is like having a laser surgery on the eyes. Who knows what will happen 30 years later?"
Her wariness is shared by many, among them healthcare providers who say they would rather not use it because they are afraid of potential health risks they believe may arise with the unnatural absence of periods.
Liu Jian, a Beijing journalist in her 20s, says she would not try it.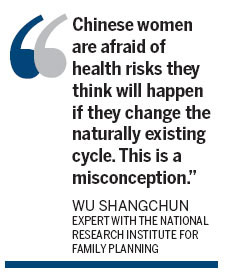 "I hold a conservative view on medicine, and I will probably not use it," Liu says. "I think we should follow nature, not violate it. Besides, the news report also said the medicine has side effects."
But it's a different story in the eyes of the experts, and many believe the fear is unfounded.
"The pill is not even new. It is just a different way to take an existing contraceptive pill," says Wu Shangchun, a contraception expert with the National Research Institute for Family Planning. "It is our failure that ordinary people do not know enough about oral contraceptive pills and choose not to use them, when there is such a high rate of abortion in China."
Among 230 million married Chinese women of reproductive age (ages 17-49), only 86 percent take contraceptive measures. Among these numbers, less than 1 percent use contraceptive pills, Wu says.
There are no official figures on their unmarried counterparts' use of contraceptives, but Wu believes few of them use pills, apart from emergency (or morning-after) contraceptives.
"Oral contraceptives are a safe way to avoid pregnancy, because the female fertility cycles they inhibit are able to recover perfectly when they stop taking the pills," Wu says.
"When the woman is taking pills, she will not have periods because she does not ovulate. But if she stops, the cycle starts up immediately.
"In other words, her fertility is not harmed, and her ovaries are just resting during the process."
The so-called new pill is actually nothing new, Wu says. It is just taking the same pills continuously for four months, so the ovulation cycle is halted until the woman stops taking them. At present, the pills are taken for three weeks and then stopped.
"We should be more tolerant toward the change of period patterns," Wu says. "Chinese women are afraid of health risks they think will happen if they change the naturally existing cycle. This is a misconception."
Contact the writer at liuzhihua@chinadaily.com.cn.
Wang Qingyun contributed to this story.