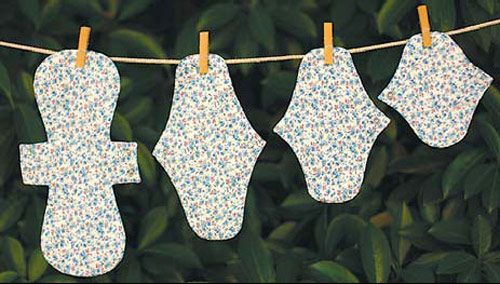 New washable pads, made with cotton and rayon from bamboo, are a more environmentally friendly choice for women. Provided to China Daily
Some women might say Hannah Lane is living in the past, but she's pretty happy with her decision. In 2011, while living in Shanghai, the 32-year-old made the switch from sanitary napkins to washable pads.
Related: Looking at new cycles
Many women would cringe at the thought of reusing a menstrual pad, a throwback to the days of their mothers or grandmothers before disposable pads were invented in the early 1970s.
Lane does find washing the cloth pads inconvenient - not to mention carrying around used ones - but she thinks they're worth the trouble.
They're more comfortable than disposable pads, cheaper in the long run and, most importantly, friendlier to the environment, she says.
"I did not like the amount of waste I was creating each month," Lane says by e-mail from her native England. "This seemed like a great alternative, so I bought some and have not looked back."
Brigitte Elie switched to cloth pads in mid-2008 for the same reason. And she liked the product so much that she decided to commercially manufacture them a year later in China, where she has lived with her husband and daughter for 12 years.
"The seed had been planted a long time ago that, first of all, I wanted to have my own business to create my own products," Elie, a 46-year-old native of Montreal, Canada, says in a phone interview from her factory in Kunshan, Jiangsu province.
"When I started using washable menstrual pads, already I was quite sold to the idea (of producing them) because I would be doing something good for the environment. Then, suddenly, I realized the bonus - it would be good for my body as well, and women's causes are very dear to me."
Since establishing her Ecobibi brand in 2009, Elie has expanded its offerings to baby and mother products, beddings and lifestyle accessories. But the cloth pads still make up a fifth of the company's merchandise, she says. (It was through her brand that Lane discovered cloth pads.)
The pads, which come in small to extra-large sizes, are made from ordinary and organic cotton, as well as rayon from bamboo, the Ecobibi website says. To prevent leakage, the pad's inner layer is made of waterproof polyester.
The smallest pad, comparable to a disposable panty liner, costs 35 yuan ($5.6). The largest size, for heavy-flow days, is 49 yuan.
But what are the health benefits or drawbacks of using such pads?
"Women who switched to washable menstrual pads experienced reduction in flow, vaginal irritation, allergies, burning, itching and yeast infections," the Ecobibi site says.
The Society of Obstetricians and Gynecologists of Canada, however, says it's not aware of any studies comparing the merits of washable versus disposable menstrual pads or those that assess the health effects associated with the use of washable pads.
"Given the lack of evidence to support one option over the other, the choice of using cloth versus disposable sanitary pads remains a very personal one for each woman," Dr Vyta Senikas, the group's acting vice-president, says in an e-mail.
But she says cloth pads can be the answer to women who are allergic to chemicals found in sanitary pads.
"In addition to being sensitive to dyes, some women may also have allergic reactions to the perfumes contained in scented products, such as sanitary napkins, or will react to artificial (synthetic) materials used to create certain items," Senikas explains.
"As a result, merchandise made from natural products, such as cotton and bamboo, may be a preferred option for these women."
Most cloth-pad users have crossed over from sanitary napkins largely because of comfort and sustainability concerns, according to a presentation given at last year's meeting of the Society for Menstrual Cycle Research, based in the United States.
But in today's fast-paced world, these women remain in the minority, as Lane very well knows from female friends and acquaintances.
Most "are a little squeamish and don't want to deal with the washing of the pads", she says. "We all turn to convenience so often that disposal is the norm."
tiffany@chinadaily.com.cn