Elderly models prowl the catwalk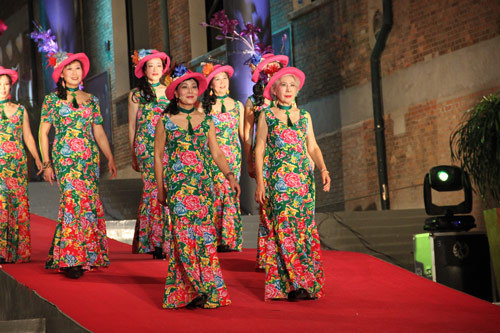 Zhang Jinglai (right) and her team of elderly models have performed in 40 shows over the past seven years. Provided to China Daily.
Zhang Jinglai is a model who's so devoted to her profession that she hasn't had time for love since her husband passed away six years ago - indeed, she's one busy 73-year-old.
The widow leads a team of about 30 retirees-turned-models in Beijing. The team is very busy with functions, including some in which they wear Zhang's designs.
They practice strutting their stuff on the catwalk while wearing 7-cm pumps before every gig.
Zhang takes the shows seriously and asks the models to repeat their performances and be meticulous about their tempos and expressiveness.
"I feel more confident strutting on the catwalk in the way Zhang teaches us," 58-year-old Du Weihong says.
"We always look forward to our sessions."
Zhang was never a professional model but, rather, took up the passion after retiring from her job as an industrial designer.
"It wasn't hard to adjust to retirement because I finally had the time to do what I've always wanted," she says.
She tried folk dancing before going into modeling.
Zhang learned from pros and passed along her knowledge to her team. She has led them onto more than 40 stages in the past seven years.
"It's almost a full-time job," she says.
Zhang choreographs, selects the music, books the venues, leads twice-a-week trainings and manages wardrobes.
Du says: "Zhang has such great taste that I drag her with me when I shop for clothes."
Zhang says she enjoys the busy schedule and bonding with the team.
"We all love beautiful things and hate sitting around, doing nothing," she says.
That makes the group cohesive enough that it doesn't have to worry about funding or turnover.
"Friendship is at the core of our group," Zhang says.
"I have so many friends here. It's ideal that I get to do my favorite things with my favorite people."
She doesn't care that it hasn't left her time to find love, she says.
"I don't even have time to think about it," she says.
"Besides, it's too hard at our age to adjust to another person."
Zhang says her hectic lifestyle has improved her physique and lowered her blood pressure.
And having so many great friends has made her life as a single woman "glamorous".
"I'm all on my own," she says.
"And I'm very happy."
sunye@chinadaily.com.cn