Where VHS still has fans
In this age of online streaming and Blu-ray Discs, there are still places where the bulky VHS cassette endures, and some of them are the immigrant communities of New York City.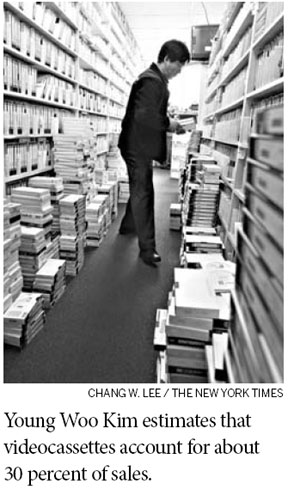 The survival of the format may speak to a frugal strain among some immigrants, particularly those who are older and seem more reluctant to embrace the throwaway, ever-modernizing consumer culture of America.
"The immigrant very much values what they did not have," said Orlando Tobon, a business owner and leader in the Colombian community of Jackson Heights, Queens. "And if it still works, they still use it."
In Harlem, a Senegalese-owned store stocks cassettes with movies from the expanding African film industry, and at least two shops in Queens, one owned by a Pakistani and the other by a Bangladeshi, supply Bollywood films on videocassette to the borough's large South Asian population. Latinos in Queens with a preference for the format shop at a Peruvian-owned store.
The stores' owners said videocassette sales and rentals, though now only a small and shrinking slice of their business, were sustained in part by older immigrants who seemed less inclined than the young to adopt new gadgetry.
A South Korean immigrant named Jesook Choi, 60, a customer at Hwang Jae Video in Queens, said she owned a DVD player but never used it.
"Whenever I want to watch, I cannot play it," Ms. Choi said, as she rented two tapes. Anyway, she added, using videocassettes "feels like an old Korean tradition kind of thing."
The owner of Hwang Jae Video, Young Woo Kim, 52, opened his shop soon after he arrived from South Korea in 1989, when videocassettes were still the reigning format. They now account for about 30 percent of his business, he estimated - a far higher percentage than at many other video stores that still stock videocassettes. Many of his customers come for new Korean television shows and films. Everything on cassette is also available on DVD, but many people prefer the old format, Mr. Kim said. He charges $1 for each weeklong rental.
Sensitive to the demands of immigrant life, he said, he does not charge late fees. Asked how he sustained a business at those rates, Mr. Kim smiled uncomfortably. "It's a bit hard now," he said.
At Video Express in Queens, loyalty to the format appears to be driven not by potential revenue, however slim, but by nostalgia. "The profit is practically nothing," said the owner, Constantine Matsoukas, who was born and raised in Greece and came to the United States in the late 1960s. "But I will not throw them away. I will not do that."
Mr. Matsoukas, 65, is now saddled with about 40,000 videocassettes. They take up a lot of space, he acknowledged, and are hard to sell, even when he offers them at 10 for $1. When he tried to donate some to the public library, he said, he was rebuffed.
Mr. Matsoukas offered a practical reason for his devotion: not all tapes have been transferred to more modern formats, and among them may be a rarity, if not the only surviving copy.
"They're not living things, but it's alive," he said. "There's something there. You put it in the VCR, and it comes alive."
Adam B. Ellick contributed reporting.
The New York Times