Rhythms of an ancient life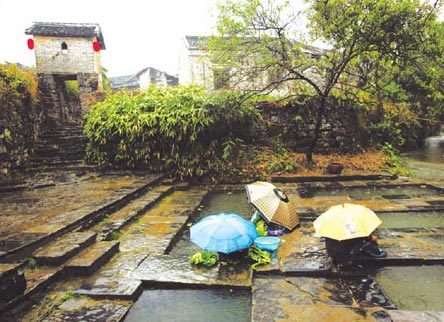 Although every household has access to tap water, Huangyao people still prefer to use fresh spring water wells, kept separate for drinking, washing vegetables and cleaning farm tools. Photos by Huo Yan / China Daily
Huangyao town offers all the charms of Guilin but none of its tourist kitsch and clamor. Huo Yan and Huang Zhaohua report.
Huangyao, a 1,000-year-old town nestled in the mountains of southern Guangxi Zhuang autonomous region, is attracting increasing attention from travelers. They come to enjoy its well-preserved local culture, natural beauty and tranquil rustic life. But day-trippers to Huangyao may be disappointed. It does not take long to cover the 1.1 sq km town. And at first sight, it is very much like other parts of the region such as Yangshuo, in Guilin, already a must-see destination for international tourists.
Only if visitors stay for a night or two will they discover the charm of this ancient town. It looks even better on rainy days when the surrounding mountains are shrouded in mists.
Luckily enough, we arrived on a rainy day, and stayed for several days.
This landlocked place borders the most remote parts of Guangdong and Hunan provinces, and used to be a business hub in ancient times.
Located some 200 km from Guilin, Huangyao is in Zhaoping county, Hezhou.
The most impressive features of the town's rain-soaked landscape are the banyan trees. They are everywhere, their umbrella-like branches reaching into the numerous streets and narrow lanes.