Duterte: China deserves respect it now enjoys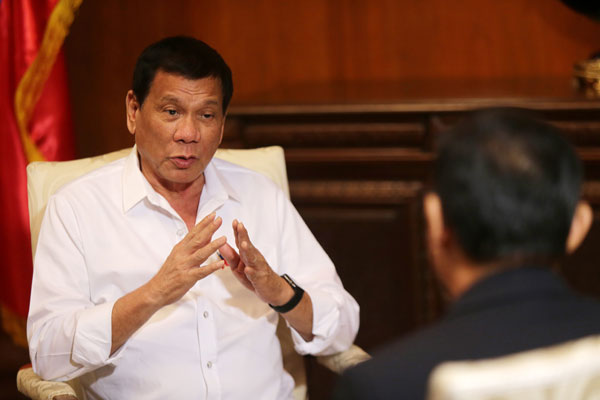 Philippine President Rodrigo Duterte (L) speaks during an interview with Xinhua News Agency in Manila, the Philippines, Oct 13, 2016. [Photo/Xinhua] 
MANILA -- Philippine President Rodrigo Duterte has said that his country expects to boost traditional friendship with China and further bilateral trade and economic cooperation.
Duterte starts a four-day state visit to China on Tuesday at the invitation of his Chinese counterpart, Xi Jinping.
The visit will help him better understand China, Duterte told Xinhua in an exclusive interview on Thursday.
He spoke highly of the Chinese government and people, saying that China boasts hard-working people and "good, sound policies, internal and external."
"I would say that China deserves the kind of respect that China now enjoys," he added.
Duterte also lauded China's commitment to and generosity of helping others as a major player of the international community, adding that besides its own development, China has never forgotten those underdeveloped nations, as illustrated by its devotion to helping African and Southeast Asian countries to promote development.
Speaking of the two countries' economic and trade cooperation, Duterte said that since his country is abundant in tourism, mineral and agricultural resources, and China boasts a huge lucrative market, the two neighbors enjoy high complementarity and considerable potential for further cooperation.
The Philippine leader said his country needs to retain its friendly relationship with China and learn from the latter's success in economics and trade, especially in times of global financial crisis.
In terms of the South China Sea issue, Duterte said he prefers negotiation to confrontation.
"There is no sense in going to war. There is no sense fighting over a body of water," Duterte said. "It is better to talk than war. We want to talk about friendship, we want to talk about cooperation, and most of all, we want to talk about business. War would lead us to nowhere."
Duterte also made clear his opposition against some specific outsiders' attempts to meddle in the South China Sea issue.