VW to bet big on mobility and NEV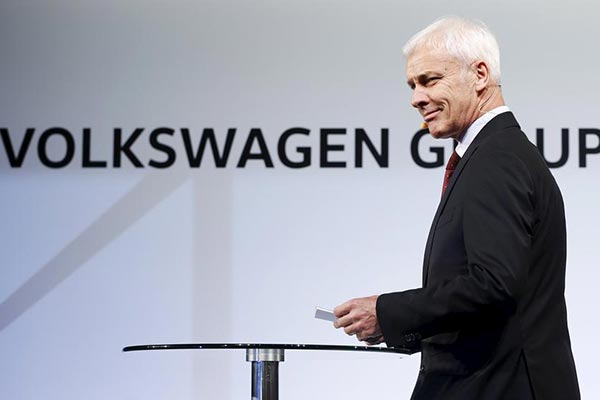 Volkswagen CEO Matthias Muller speaks at their media reception during the North American International Auto Show in Detroit, Michigan, January 10, 2016. [Photo/Agencies]
Volkswagen AG has built a company dedicated to mobility service as part of its goal to stay competitive as it has been, said a senior executive of the German car giant on Sept 29, the eve of the Paris auto show.
Addressing several hundreds of journalists, Matthias Muller, CEO of Volkswagen AG, said a company dedicated to mobility service has been established in Berlin and the management has been put in place.
Muller said the company, though its name has not been decided yet, will work on ride hailing, shuttle service as well as sharing urban mobility, with more details to be revealed in November.
Muller said the company, which he calls as the 13th brand, will rank among top three provider of urban mobility solutions and become a market leader in Europe by 2025.
All the other 12 brands are automakers, including Volkswagen, Audi, Skoda and Porsche.
Besides mobility service, Muller is betting big on new-energy vehicles, saying that the group is to roll out more than 30 electric vehicles by 2025 besides those that have already hit the market.
"The future is electric," said Muller. He said Volkswagen is showcasing a concept car called ID with a range of up to 600 km.
The car is based on MEB, the carmaker's new platform dedicated to new energy vehicles, and the new platform will be rolling out in the group from 2020.
Experts believe that some of its electric cars will be produced in China as it is in talks with Chinese automaker JAC on building a joint venture to develop and build new-energy vehicles.
Besides electric cars, Volkswagen AG is introducing 17 plug-in hybrids by 2018, with the first being Porsche's Panamera E-Hybrid also showcased at the Paris auto show.
Muller said Volkswagen is also working on a rapid-charging project for new-energy vehicles as he believes "the breakthrough for e-mobility cannot be achieved without substantial progress in batteries and infrastructure".