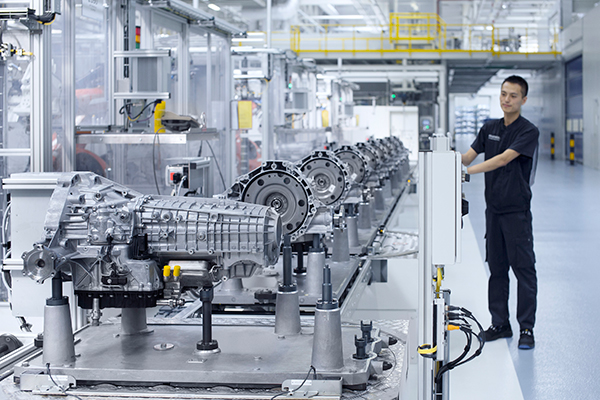 An engineer works at Audi's DL382 transmission assembly line. The company has high hopes for the localization of its latest gearbox as it bids to respond rapidly to Chinese customers' demands. [Photo provided to China Daily]
German luxury automaker Audi is confident of a rebound this year and it is pinning high hopes on its upcoming models, with plans to build on record growth in the Chinese market in the first seven months by increasing investment.
The company is set to launch its popular A4L next month in the world's largest market, amid positive forecasts for the year.
"Audi is in the leading position in localizing the best-in-class technologies in China. We are always ahead, and will stay ahead," Joachim Wedler, president of Audi China, told China Daily. "One of our commitments is to deliver value, so we bring the best products and latest technologies to China as early as possible."
The company sold 336,580 units in the first seven months, 6.5 percent more than that of the same period last year. It expects the A4L lineup to add significantly to that growth and fuel optimism for the rest of this year.
The domestically made, all-new A4L is powered by the first locally developed premium transmission system, with an annual capacity of 240,000 units at the Volkswagen Automatic Transmission Tianjin facility.
More investment will be injected in the next phase to double production capacity, to transfer advantages in efficiency and sustainability to more models in the near future, Wedler said. The premium gearbox system will be installed in all locally produced new models, including the Q5, A6L and upcoming plug-in hybrid car.
"Our customers will have a much better gearbox in the cars at a price similar to their peers. Our technologies enhance both the efficiency and the performance, and cut CO2 emissions to the lowest levels in the segment," he said.
Audi's self-developed dry-sump DL382 S-Tronic 7-speed dual clutch transmission help the powertrain reduces carbon dioxide emissions by 10 g during each hour drive, and consumes 0.3 liter less fuel every 100 km than the predecessor. When paired with the 2-liter turbocharged engine, the powertrain of the all-new A4L boosts fuel efficiency to 5.9 liter/100 km, according to the company.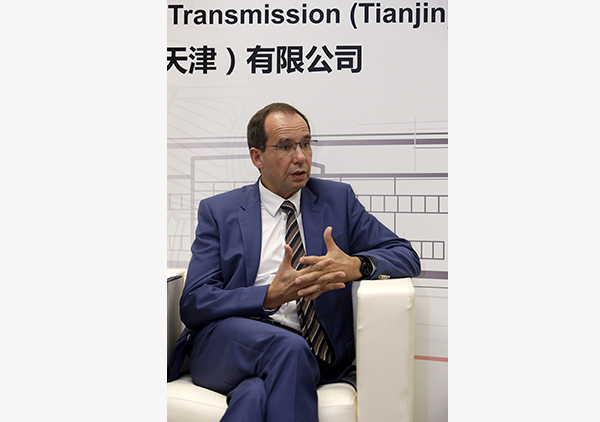 Joachim Wedler, president of Audi China. [Photo provided to China Daily]
"The localization of the latest gearbox accelerates the response to Chinese customers' demands and the local situation," said John Zeng, managing director of LMC Automotive Consulting.
"Audi can monitor the new transmission technology's stability and suitability through actual runs on the roads in China, and react in a timely manner."
He said a newly developed technology would be accepted by the market after a process of promoting and upgrading, and the reliability could be examined only after a long-term use.
Audi's transmission production at Volkswagen Automatic Transmission Tianjin is the first of its kind in China among luxury automakers and creates about 1,000 job opportunities.
"The domestically produced Audi will have its whole powertrain locally made in China. Beyond the technology, this gearbox plant further reduces production costs and generates advantages in the long run," Zeng said.
"Other luxury carmakers which are spending more on their gearbox, either in terms of shipping or procurement, might feel the chill and follow Audi's example."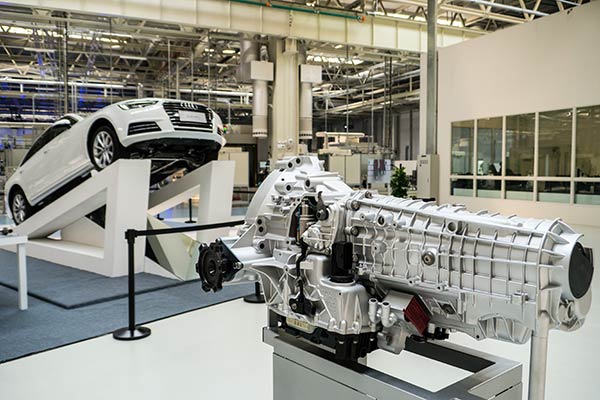 A DL382 S-Tronic 7-speed dual clutch gearbox is displayed in front of a new Audi A4L in Audi transmission production at Volkswagen Automatic Transmission Tianjin, Aug 22, 2016. [Hao Yan/chinadaily.com.cn]
Daimler AG imports its own gearboxes for its China-made Mercedes-Benz. According to Beijing Automotive Group's ambitious five-year plan, Beijing Benz Automotive Co Ltd, its joint venture with Daimler AG, is expected to overtake Audi in the luxury market by 2020.
BMW Group procures completed gearboxes from ZF Friedrichshafen AG.
Some Audi models use Aisin Group's Continuously Variable Transmission.
As part of its efforts to maintain its leading position in China, Audi is set to launch the A6L e-tron, its first locally produced new-energy vehicle, in the Chinese market by the end of the year. The Q7 e-tron is also expected to be imported next year.
The company is also offering auto-pilot, hands-off driving through its Audi A8 next year, supported by the research and development center in Beijing. The center is Audi's largest R&D facility outside Germany.
Wedler is confident of these investments and developments.
"New models always help the sales, and the profitability," he said.