Yang chairs Athletes' Commission of Beijing 2022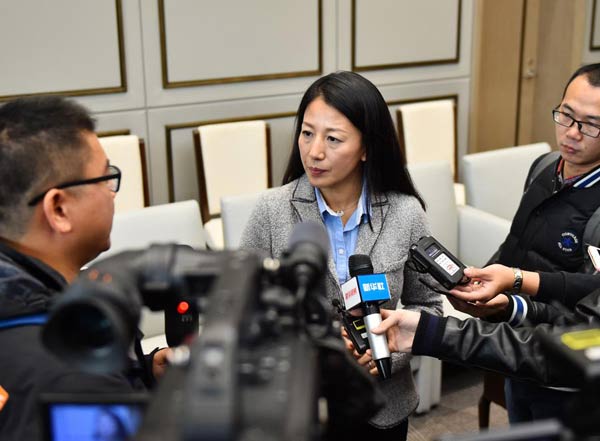 Yang Yang receives interview after the first plenary session of the Athletes' Commission of the Beijing 2022 Organizing Committee in Beijing, capital of China, on Nov. 21, 2017. The Athletes' Commission was made up of 19 current and former Chinese athletes with vast background. Yang Yang, who is Chinese first Winter Olympic champion and member of International Olympic Committee (IOC), became chairwoman of the commission. [Photo/Xinhua]
BEIJING - Yang Yang became chairwoman of the Athletes' Commission of Beijing 2022 as its first plenary meeting held here on Tuesday.

Beijing has promised the world with athlete-centered, sustainable and economical Winter Olympic Games during the bidding process, under the theme of which, the Athletes' Commission was established to better reflect athletes' opinion and serve the athletes of all over the world.

Taking into consideration of the recommendation of Chinese Olympic Committee and Chinese Paralympic Committee, the Beijing 2022 Organizing Committee has decided to appoint Yang, who is also Chinese first Winter Olympic champion and member of International Olympic Committee (IOC), as the chairwoman of its Athletes' Commission.

The commission was made up of 19 current and former Chinese athletes with vast background, 17 were from winter sports, including winter Paralypmpic sports, while two were from summer sports.

"Today I'm very excited. Beijing 2022 attaches great importance to the Athletes' Commission and arranges specific tasks for our commission, which is a huge recognition for us. The Games is athlete-centered, therefore needs to understand the demands of athletes. From Games ogranization to event operation, athletes' opinion should be taken into consideration in all aspects." said Yang.

As a member of IOC Athletes' Commission, Yang added that Beijing 2022 will listen to the demands from athletes worldwide and provide them with remarkable service.

The Athletes' Commission of Beijing 2022 will hold non-scheduled seminar to discuss issues in regards to the Games preparation, attend the meeting of the Organizing Committee and visit the venues of the Games. Meanwhile the commission will strengthen its connection with international sports organization such as IOC and IPC (International Paralympic Committee), and promote winter sports and Olympic education in China.

Chinese figure skating Olympic champion Zhao Hongbo is also among the commission. "We will collect the athletes' opinion towards the preparation of Beijing 2022 and give the feedback to the Organizing Committee in time," said he.

Zhang Jiandong, vice-president of the Organizing Committee, said the establishment of the Athletes' Commission is an important point for Beijing 2022. With the Pyeongchang Games nearing, the Winter Olympics would enter Beijing time in a short time. "The Winter Games is different from the Summer Games, we are eager to take athletes' advice."