Grigor eyes an even grander prize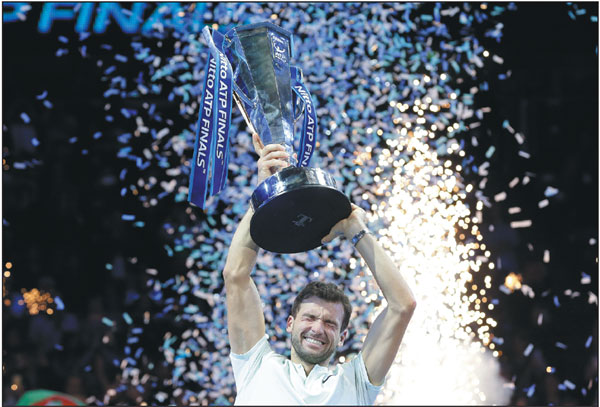 An ecstatic Grigor Dimitrov of Bulgaria hoists the ATP World Tour Finals trophy after defeating Belgium's David Goffin 7-5, 4-6, 6-3 in Sunday's final at O2 Arena in London.Tim Ireland / AP
Dimitrov targets first major after Tour Finals win
LONDON - Grigor Dimitrov has set his sights on Grand Slam glory after claiming the biggest title of his career at the ATP World Tour Finals on Sunday.
The Bulgarian sixth seed held his nerve to beat Belgium's David Goffin 7-5, 4-6, 6-3 in a gripping contest at London's O2 Arena, sealing the match with his fifth championship point.
Dimitrov's unbeaten run in the English capital earned him $2.5 million while the 1,500 ranking points catapulted the 26-year-old to a year-end No 3 world ranking - behind only all-time greats Rafael Nadal and Roger Federer.
More significantly, perhaps, landing the unofficial "fifth" Grand Slam appears to be proof that the former junior Wimbledon champion, once dubbed 'Baby Federer' because of his fluid style, has finally come of age.
"It's been an amazing week for me," Dimitrov said on court after becoming the first debutant winner of the elite eightman tournament since Spaniard Alex Corretja in 1998.
"It's such an honor to be here and this week has been one of the best weeks I've ever had," he added.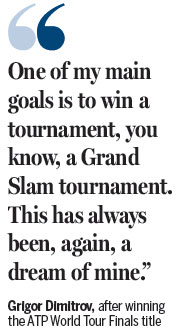 Dimitrov was still on court nearly an hour after the match ended, signing autographs for the sizable Bulgarian contingent who had roared their man to victory.
Yet it was tough on Goffin who, like Dimitrov, was his country's first qualifier for the Finals.
His substantial consolation, though, was to end the year at a career-high No 7, having become only the sixth man to beat Nadal and Federer in the same tournament.
At two hours and 30 minutes the final was the longest since the event adopted a three-set format, and Goffin will need to recover fast from his busy week, with a Davis Cup final looming against France in Paris this weekend.
Many of the capacity crowd in the O2 Arena had doubtless booked their tickets in anticipation of watching the top two seeds Federer and Nadal go head-to-head, but the two newcomers provided a fitting end to an extraordinary ATP season.
Dimitrov has slowly come to the fore, enjoying the best season of his career in 2017, winning four titles in all, including his first Masters title in Cincinnati.
He has never been beyond the semifinals of a Grand Slam, reaching the last four at Wimbledon in 2014 and repeating the feat in Australia earlier this year.
"I'm still trying to think about what I just did," the Bulgarian said of his triumph.
"I think now definitely we are going to sit down with the team and reassess the whole year, see what we've done good, what we can improve.
"One of my main goals is to win a tournament, you know, a Grand Slam tournament. This has always been, again, a dream of mine. Now, slowly, I think this thing is getting there.
"I think I've had good results in the past, but now, as I said, I need to be even more consistent in those kind of events, and at the same time raise up my level on occasions like this.
"Obviously, this is a great, unbelievable achievement for me, yes. But I still have a lot to give."
Four-ward march
The ATP Finals had an unusual flavor this year, starting with the absences of Andy Murray and Novak Djokovic, who are both recovering from long-term injuries. Then world No 1 Nadal was forced to pull out injured after his opening round-robin match.
In a huge shock, Federer was ousted in the semifinals by Goffin.
But Dimitrov said it was too soon to proclaim a new era and write the obituaries of the "Big Four" who have dominated tennis over the past decade and more.
"Next year I think is going to obviously be pretty interesting, especially the beginning of it," he said.
"There's still quite a few names that are going to come back and play. That's just obvious. You should never count them out."
Dimitrov said his win in London had lifted him into the conversation about the top players but added that he had to work hard to capitalize on that.
"Am I one of those guys? Well, right now I'm right here. I'm the winner of the tournament. So, yes, I'm happy with it.
"But that's about it. Like, the important thing is just to stay on the ground and put your head down, even work harder because once you get to that point, everything becomes so narrow for you.
"I just want to keep the same line. I don't want to get too hyped up because I've done well, now I'm ranked third in the world.
"I think this makes me even more locked in, more excited about my work, and for what's to come."
AFP - Reuters