Riding taller in the saddle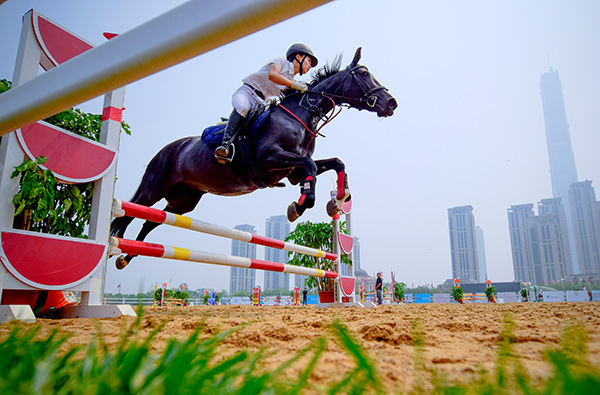 Equestrian sports have become hugely popular in China in recent years, with increased investment as well as involvement with foreign organizations.[Photo by Tong Yu for China Daily]
Beijing club signs groundbreaking development deal with British equine experts
China's emerging equine sports industry is set to harness the best of the British equestrian system.
With horse sports gaining popularity among China's affluent middle class, the introduction of the British Horse Society Equestrian Education Project through the Beijing-based Equuleus riding club will serve as a blueprint for developing the industry.
The BHS and Equuleus held a signing ceremony at the British embassy last week to officially introduce the system to China. Britain's Princess Anne, a rider and lifelong horse enthusiast, witnessed the signing during her visit to the Chinese capital.
Adopted by elite riding centers in 22 countries around the world, the BHS system features education and club authentication in several aspects of the industry, including staff training, horse welfare, stable management and club operation.
In a country where new riding clubs emerge overnight to attract an increasing number of beginners, the system has just arrived in time.
"The industry is growing astronomically, and because of that growth the challenges are enormous," Lynn Petersen, CEO of the BHS, told China Daily. "If you grow that rapidly, it's very hard to keep the education up to date, so you get a lot of people coming in to ride horses who don't yet know enough about them."
According to data from the annual China Horse Fair, the number of domestic equestrian clubs increased to 907 by the end of 2016, with about 100 new facilities opened between 2015 and 2016.
The number of new riders is also skyrocketing, with the average annual growth rate of club memberships in China up 33 percent, accumulating 270,000 members by the end of 2016.
While the full gallop in infrastructure has made equestrian sports accessible for enthusiasts at the grassroots level, it also exposed loopholes in safety and horse welfare, said Alex Hua Tian, China's first Olympic equestrian and ambassador of the BHS system.
"I look at the industry in China and see it growing so quickly ... but I also worry about it because there are certain links missing and some structures that have not been established," said Hua, who first represented China in an Olympic event at the 2008 Beijing Games.
The lack of industry standards and club-approval schemes has brought risks to the immature market, where imprudent practices in entry-level training and horse management have taken a toll on the sport's hard-earned reputation, said Hua.
"For newcomers to this sport, how do you know which club is good or bad if nobody is credible to judge?
"That is what the BHS can do - give confidence to the market and to parents who want to send their children to BHS-approved facilities," added Hua, who first learned how to ride at a western Beijing stable at age 4.
He moved back to Wiltshire, England, with his parents at age 11 in 2000 and has become a world-class eventing rider, influenced by the BHS system.
Equuleus, the first riding club in China approved by BHS after passing rigorous standards in 2012, has been a vocal force promoting equestrian education, with horse welfare at its heart.
Based on the sport's current state of development in China, Equuleus has worked with BHS to localize the accreditation system for Chinese clubs by making the entry level in training, client service, horse management and club operation attainable for as many clubs as possible to adopt and advance.
"It's not about copying the entire British system, but to improvise one that's based on China's own situation and standards," said Wang Qiang, director and general manager of Equuleus.
"At the end of the day, our goal is to train enough local staff in every aspect of the industry and to build a pyramid system of our own from grassroots participation up to athletic prowess on the top."
sunxiaochen@chinadaily.com.cn