Federer and Murray reach Wimbledon quarterfinals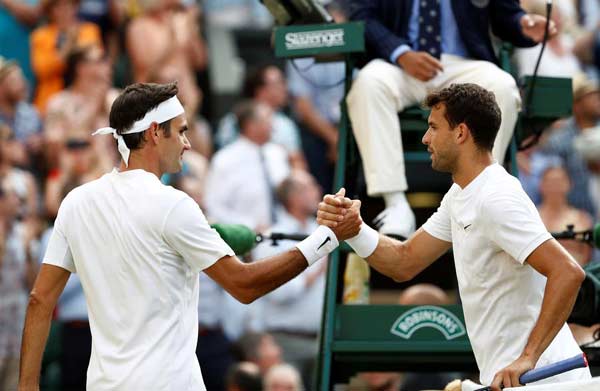 Switzerland's Roger Federer shakes hands with Bulgaria's Grigor Dimitrov after their fourth round match at the Championships Wimbledon 2017 at Wimbledon, London, Britain on July 10, 2017. [Photo/Agencies]
LONDON — Roger Federer and Andy Murray, much to the delight of the Centre Court crowd, both reached the Wimbledon quarterfinals on Monday.
Federer is a seven-time champion at the All England Club and one of the fan favorites. He advanced to the quarterfinals for the 15th time by beating Grigor Dimitrov 6-4, 6-2, 6-4.
"I didn't expect it go to that easy," said Federer, the Australian Open champion. "It wasn't as easy maybe as it looks like." Murray is also adored at the grass-court major. He is a two-time Wimbledon champion, but maybe more important, he is British and in 2013 became the first homegrown player to win the men's title in 77 years.
On Monday, he beat Benoit Paire 7-6 (1), 6-4, 6-4.
"I've done a good job so far here," said Murray, the defending champion. "Today was by far the best I hit the ball, the cleanest I hit the ball. I was happy about that."The first man to reach the quarterfinals was Marin Cilic. The seventh-seeded Croat beat Roberto Bautista Agut 6-2, 6-2, 6-2. Cilic, who won the U.S. Open in 2014, will be playing the quarterfinals at the All England Club for the fourth straight year.
In the women's draw, five-time Wimbledon champion Venus Williams won, and top-ranked Angelique Kerber lost.
Federer first reached the Wimbledon quarterfinals in 2001 and then won the first of five straight titles in 2003. He will next face either Milos Raonic or Alexander Zverev.
Murray will play Sam Querrey on Wednesday. The 24th-seeded American defeated Kevin Anderson 5-7, 7-6 (5), 6-3, 6-7 (11), 6-3.
Williams, who last won the title at the All England Club in 2008, advanced to the quarterfinals by beating 19-year-old Ana Konjuh 6-3, 6-2. She is playing at the grass-court major for the 20th time in her career. Her Wimbledon debut came a few months before Konjuh was born.
"Winning never gets old at any stage in your career, ever, ever," Williams said.