Chinese fans pleased with Yao Ming's appointment to FIBA Central Board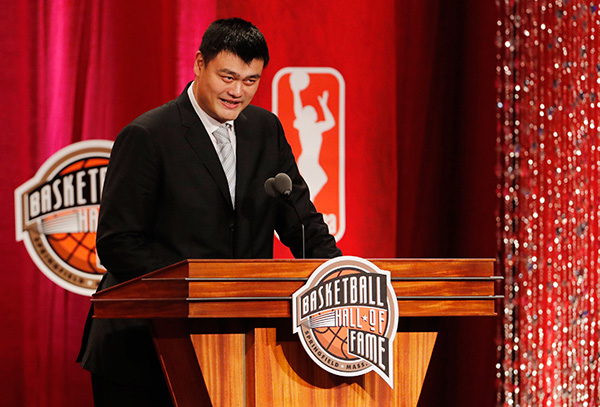 Yao Ming speaks during the 2016 Naismith Memorial Basketball Hall of Fame Enshrinement Ceremony at Springfield Symphony Hall, Springfield, Massachusetts, US, on Sep 9, 2016. [Photo/Agencies]
BEIJING - Chinese fans applauded Yao Ming's moving up on world basketball ladder when the Chinese Basketball Association (CBA) president entered the top executive branch of the International Basketball Federation (FIBA).
The NBA Hall of Famer became the co-opted Central Board member along with Russian Basketball Federation head Andrel Kirilenko as the Board held its second meeting of 2017 in Hong Kong, China on Wednesday.
The news reached his home country a day later and fans gave him the thumbs-up.
"Congratulations, Yao! You have my full support!" acclaimed one netizen.
"Yao Ming's appointment can get 100 'likes' from me. Besides, his appointment will be good for Chinese basketball and helps balance the sport's development worldwide," said another.
The Board plays a role in supervising the practice of basketball worldwide where Yao will start his term on October 1.
Used to be the face of Chinese sports, Yao, 37, has made successful transition from the Chinese international and Houston Rockets center to businessman, political adviser and basketball association head. He was elected CBA president in February.