Juve poised for final countdown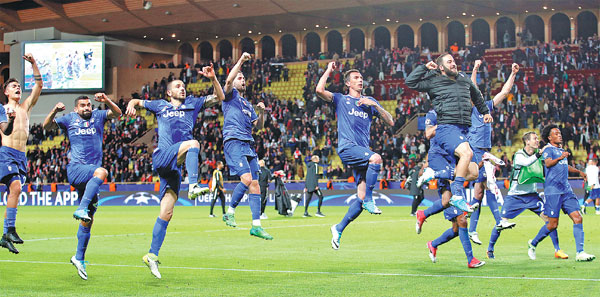 Juventus players celebrate blanking Monaco 2-0 in Wednesday's UEFA Champions League semifinal first-leg match at Stade Louis II in Monaco. Jean - Paul Pelissier / Reuters
Higuain brace has Italians eyeing Cardiff
MONACO - Gonzalo Higuain urged his Juventus teammates to keep their feet on the ground after he scored both goals in a brilliant 2-0 win in Monaco on Wednesday that left the Italian squad on the brink of the Champions League final.
Argentine striker Higuain was set up by Dani Alves to open the scoring in the 29th minute, then converted an Alves cross just before the hour as Juve claimed a crucial victory in the semifinal first leg at Stade Louis II.
The Italian champion has the final in Cardiff on June 3 in its sights, with a showdown against holder Real Madrid, Higuain's former side, looking probable.
"The dream we have been pursuing since August has been to get to Cardiff and we are just one step away," said Higuain, who now has 31 goals this season following his $98 million transfer from Napoli.
"We have not won anything yet, so we mustn't get carried away," added Higuain, who ended a seven-game run without scoring in the Champions League knockout stages.
"I stayed calm. I knew everyone had faith in me and that hard work is always rewarded in the end."
Juventus shone in all areas against a Monaco side that has lit up Europe this season with a thrilling brand of attacking soccer.
Buffon still strong
But the host found Juve's defense rock solid, with Gianluigi Buffon majestic as ever in goal.
The 39-year-old, making his 149th European appearance, denied Kylian Mbappe and Radamel Falcao in the first half and produced a stunning fingertip stop on Valere Germain late in the second.
Juventus, which welcomes Monaco to Turin for the second leg next Tuesday, has now gone over 10 hours without conceding in the Champions League and Buffon has blanked the opposition in five matches in the knockout rounds.
"In every game I want to show that I deserve to play at this level despite my age," said Buffon, twice a losing finalist in the Champions League.
"I work hard every day for this. The day I quit, I want people to be sad about it.
"We had the right approach. They are a fearsome team and the only way to beat them was playing the way we did."
Buffon also praised coach Massimiliano Allegri for his decision to bring Andrea Barzagli into a three-man defense, thwarting Monaco's attack and allowing Alves to wreak havoc down the right.
"Gigi showed that he is still a great goalkeeper. He always does it in big games, and Higuain scored two lovely goals," said Allegri.
"But to get results, everyone needs to work hard. You need to make sacrifices and track back and he did that too."
'More clinical'
Juventus could wrap up a record sixth consecutive Serie A title this weekend, when it faces city rival Torino, while Lazio awaits in the Italian Cup final.
To put its performance in the principality into context, Monaco had won its previous 13 home games and scored in 41 consecutive matches at Stade Louis II since November 2015.
"They were more clinical than us - with two or three chances they scored and we couldn't put any of ours away. Buffon made some incredible saves," said Monaco head coach Leonardo Jardim, who sorely missed injured marauding leftback Benjamin Mendy.
Now Monaco must attempt to become just the third team ever to overturn a home first-leg deficit in the Champions League.
"It is difficult, but we need to keep believing. The best thing is to believe it is possible, even if we only have a five percent chance," Jardim added.
In the meantime, Monaco will switch its focus back to its attempt to win the French title.
It plays Nancy on Saturday and needs two wins from its last four league games to become champion.
Agence France - Presse
Most Popular
Highlights
What's Hot