LeBron is Kareem of the crop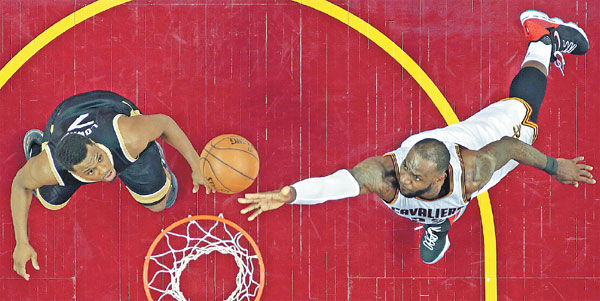 LeBron James of the Cleveland Cavaliers lays up a shot against the Toronto Raptors' Kyle Lowry in Game 2 of their NBA Eastern Conference semifinal on Wednesday in Cleveland. James scored 39 points to help the Cavs to a 125-103 victory and a 2-0 series lead. Tony Dejak / Ap
James passes Abdul-Jabbar mark as Cavs crush Raptors
CLEVELAND - Unstoppable. Untouchable. Undefeated.
Back on the playoff stage, where he's starred so many times before, LeBron James is making things look easy.
James scored 39 points, passed Kareem Abdul-Jabbar on the NBA's all-time career playoff scoring list and pushed the Cleveland Cavaliers to a 125-103 blowout over the Toronto Raptors in Game 2 of their Eastern Conference semifinal on Wednesday night.
Just like a year ago in the conference final, the Cavs are up 2-0 on the Raptors, who had better figure some things out or this series will be over quickly.
Toronto was blown out for the fifth straight time in Cleveland in the playoffs, losing each by an average of 24.2 points.
Game 3 is on Friday night at Toronto's Air Canada Centre.
James, who has won a road game in 27 consecutive series, appears determined to toss Toronto aside. He finished 10 of 14 from the field, dropped four 3-pointers and 15 free throws.
"He did miss six free throws," cracked Toronto's Kyle Lowry. "He's playing unbelievable. He's playing like LeBron James."
In Cleveland's past nine playoff wins, James is averaging 34.9 points, 10 rebounds and 8.1 assists.
Kyrie Irving had 22 points and 11 assists and Channing Frye scored 18 points for the reigning champions, who are 6-0 so far defending their title. Cleveland is 9-0 since losing Game 4 of last year's NBA Finals.
The Raptors didn't start Jonas Valanciunas, but he led them with 23 points. Toronto only got five points from All-Star DeMar DeRozan, who didn't make his first field goal until the first minute of the fourth quarter.
Of bigger concern might be the status of Lowry, who sprained his left ankle in the third quarter. He scored 20 points but spent the fourth quarter in the locker room icing his ankle.
"It's pretty sore," Lowry said after limping to the postgame podium. "I'm going to get treatment and get ready for Game 3."
James came in needing 25 points to pass Abdul-Jabbar, and he overtook the Hall of Fame center with a 3-pointer in the third quarter, when he scored 17 points and helped the Cavs open a 26-point lead.
James (5,777 points) now only trails Michael Jordan (5,987), the player to whom he has been compared since he was a teenager, for the most points in postseason history.
James is also trying to match Jordan's six titles. He's halfway there, and the way the Cavs are playing, he could have No 4 before long.
Raptors coach Dwane Casey promised the Raptors "would be a different team tonight coming out".
He started a smaller lineup, benching the 7-foot Valanciunas and forward DeMarre Carroll in favor of guard Norman Powell and forward Patrick Patterson.
Casey also moved Serge Ibaka from power forward to center.
The moves were intended to give Toronto more ball handlers and open the floor on offense.
They didn't work, simply because the Raptors couldn't contain James.
Casey, though, is confident his team can go home and even the series.
"I believe in our players," he said. "I believe in our guys. I know there is another level we can get to. I've seen it before."
It won't matter if James raises his, too.
Milestone
James also became the fourth player with 300 career 3-pointers in the postseason, joining Ray Allen (385), Reg-gie Miller (320) and Manu Ginobili (312).
On his 40th birthday, coach Tyronn Lue said the best gift would be a win. But the former NBA journeyman, who won two titles and played for seven teams, reflected on the milestone.
"A little kid from Mexico (Missouri) with just dreams and hopes," he said.
"You never thought it would come true, but I worked hard and I'm here and I'm just blessed."
Associated Press
Most Popular
Highlights
What's Hot