Isaiah sparks Boston power surge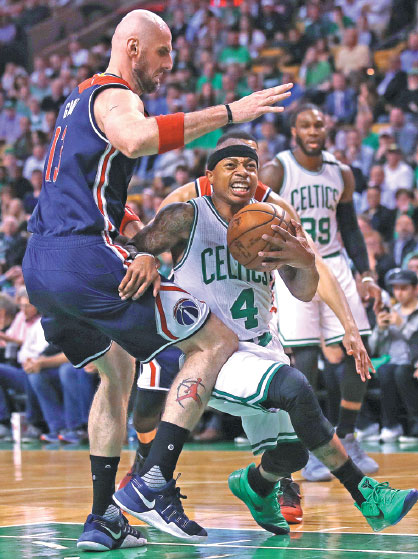 Boston Celtics guard Isaiah Thomas drives past Washington Wizards center Marcin Gortat during Tuesday's Game 2 of their NBA Eastern Conference semifinal in Boston. Thomas scored 53 points to help the Celtics to a 129-119 overtime victory and a 2-0 series lead. Charles Krupa / Ap
Thomas conjures up 53 points to make Wizards disappear in OT
BOSTON - Isaiah Thomas scored 53 points - the second-highest total in Celtics playoff history - to help Boston beat the Washington Wizards 129-119 in overtime on Tuesday night and take a 2-0 lead in the best-of-seven NBA Eastern Conference semifinal.
Still adjusting to the mouth guard he's using after losing one of his front teeth in Game 1, Thomas had nine points in overtime, when the Celtics outscored Washington 15-5.
He is the fifth player in the history of the NBA's most storied franchise to score 50 or more points in a postseason game, missing John Havlicek's team record by one point. It was also a career playoff best for Thomas.
"What else is there to say?" said Celtics coach Brad Stevens. "There was a point today where he was not feeling good at all. He's had a tough day and I thought he was going to really have to gut this one out. He not only gutted it out, he ends up with 50. Pretty impressive."
John Wall had 40 points and 13 assists for the Wizards.
The series moves to Washington for Games 3 and 4 on Thursday and Sunday.
"It's the playoffs. Everybody's going to come and play a very tough game," Wizards coach Scott Brooks said.
"They took care of their home court the first two games. We've been very good on our home court all year with great fans."
It's been a rough postseason for Thomas, whose sister died on the eve of the quarterfinal. He attended her funeral last Saturday and returned to Boston early on Sunday morning - just hours before the Celtics won 123-111 in a game in which Thomas lost a tooth.
Team doctors jammed it back in, but Thomas spent part of Monday and Tuesday in the dentist's chair to have it repositioned.
In Game 2, he wasn't the only one needing medical attention: Washington's Otto Porter left the court with blood gushing from his nose, and Celtics guard Avery Bradley needed treatment for a hip pointer in the second half.
Al Horford scored 15 points with 12 rebounds for Boston, and Bradley and Jae Crowder scored 14 apiece.
Marcin Gortat had 14 points and 10 rebounds and Markieff Morris scored 16 for the Wizards, but both fouled out in overtime.
One game after the Wizards scored the first 16 points of the night only to fall behind by 15 in the third quarter, they erupted for 42 in the first quarter and opened a 13-point lead.
Wall had 19 in the first to 15 for Thomas, but Boston erased the deficit in the second and took a brief lead with just over a minute left before the half.
Washington led by as many as 14 in the third and still had an 87-75 lead with just over four minutes left before Boston scored nine of the next 11 points to end the quarter.
Boston led 112-111 with 33 seconds left in the fourth when Porter hit a 3-pointer to give the Wizards the lead.
Thomas was fouled going to the basket and made two free throws to tie it, then both Wall and Bradley Beal missed short jumpers that could have won it in regulation.
Walking wounded
The game was only about a minute old when Morris threw Horford into the crowd under the Celtics basket.
Late in the first, Wall had to shake it off after landing on a prone Kelly Olynyk. Bradley sustained a hip pointer in a collision with 1:11 to play in the first half. And seconds later, Porter landed hard on his right wrist and elbow, but remained in the game.
Thomas banged his face on the court in the third and spent the next few minutes adjusting his teeth.
Thomas and Morris got into it midway through the third, drawing double technicals. Thomas appeared to be having words with someone on the Wizards bench, and Morris tried to push him away.
At the same time, Porter and Thomas appeared to bang heads and Porter headed to the locker room bleeding from the nose.
Associated Press
Most Popular
Highlights
What's Hot