China's king of ping-pong suffers shock loss in Wuxi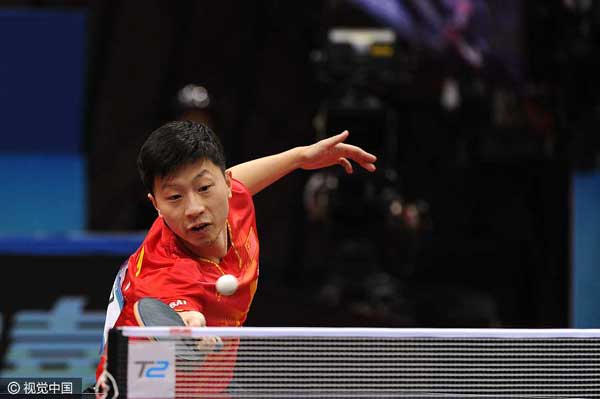 Olympic champion and world number one Ma Long reacts during his match against Jeong Sangeun of South Korea at the ITTF Asian Championships in Wuxi, Jiangsu Province on April 14, 2017. [Photo/VCG] 
Wuxi witnessed one of the biggest table tennis upsets in years on April 14 as Olympic champion and world number one Ma Long crashed out of the ITTF Asian Championships in the third round against the unranked outsider Jeong Sangeun of South Korea.
One of the most successful players in table tennis history and holder of the number one ranking for a record 56 consecutive months, Ma started the match as such an overwhelming favorite that the tournament's official media schedule had already entered his name into the quarterfinal draw.
But Jeong refused to be cowed by his Chinese opponent's fearsome reputation and the partisan support of the crowd in Wuxi, Jiangsu province, losing just one game to win the match 3-1.
Ma started strongly but lost a tight first game 11-9, and after that the three-time Olympic gold medalist by his own admission "wasn't handling the situation well, especially in a best of five games situation."
The 28-year-old rallied to win the third game 11-6 and even took a 3-0 lead in the fourth, but then a fault service penalty threw the star off his game once more. Jeong took full advantage to close out what proved to be the final game 11-6, to the dismay of Ma's fans in the Wuxi Sports Center.
According to Ian Marshall, editor at the International Table Tennis Federation's official website, Jeong's shock victory is the biggest upset table tennis has seen for several years.
"We're having to go back to 2015 [to think of a comparably surprising result]," said Marshall. "For Ma Long, he lost in 2015 in the second round of the Japan Open to Xiang Kun of China That's the nearest loss, I think."
Despite not having competed internationally for more than a year in the run-up to Wuxi, Jeong has history of causing the world number one problems.
Most Popular
Highlights
What's Hot