Tar Heels tramp to title
North Carolina takes college crown after finally vanquishing Gonzaga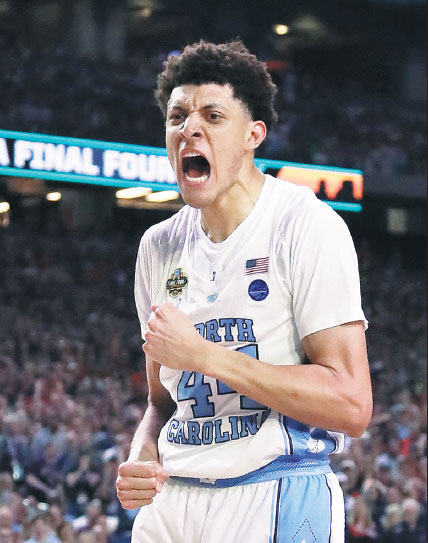 Justin Jackson of the North Carolina Tar Heels is pumped after draining a bucket during Monday's7165 NCAA national championship win over the Gonzaga Bulldogs in Glendale, Arizona. [Photo/Agencies]
GLENDALE, Arizona - It's OK; you can open your eyes now.
An unwatchable game on Monday turned into a beautiful night for the North Carolina Tar Heels, who turned an ugly free-throw contest into a championship they've been waiting an entire year to celebrate.
Justin Jackson delivered the go-ahead 3-point play with 1:40 left and North Carolina pulled away for a 71-65 win over Gonzaga that washed away a year's worth of heartache.
It was a redemption tour for the Tar Heels - filled with extra time on the practice court and weight room, and fueled by a devastating loss to Villanova in last year's title game on 3-point buzzer beater.
"I wanted to see this confetti fall on us and we're the winners," said Carolina's Joel Berry II, who led the Heels with 22 points.
"We came out here and we competed. It came down to the last second, but we're national champs now."
Berry, along with most of Roy Williams' players, returned for another run. To say everything went right for them at this Final Four would not be the truth.
The Tar Heels (33-7) followed their terrible semifinal shooting with another ice-cold performance in the final - going 4 for 27 from 3-point land and 26 for 73 overall.
Gonzaga, helped by eight straight Nigel Williams-Goss points, took a 2-point lead with 1:52 left, but the next possession was the clincher.
Jackson took a zinger of a pass from Theo Pinson and converted the shot and ensuing free throw to take the lead for good.
Moments later, Williams-Goss twisted an ankle and couldn't rise for a jumper that would've given the Bulldogs the lead.
Isaiah Hicks made a basket to push the lead to 3, then Kennedy Meeks, in foul trouble all night, blocked Williams-Goss' shot and Jackson got a slam on the other end to put some icing on the Tar Heels' sixth title.
Williams' third crown puts him one ahead of his mentor, Dean Smith, and behind only John Wooden, Mike Krzyzewski and Adolph Rupp.
"I think of coach Smith, there's no question," Williams said. "I don't think I should be mentioned in the same sentence as him. But we got three because I've got these guys with me and that's all I care about right now - my guys."
Berry recovered from ankle injuries to lead the Tar Heels, but needed 19 shots for his 22 points. Jackson had 16 on a 6-for-19 night, and overall the Tar Heels actually shot a percentage point worse than in Saturday's win over Oregon.
Thank goodness for free throws. They went 15 for 26 from the line and, in many corners, this game will be remembered for these three men: Michael Stephens, Verne Harris and Mike Eades, the referees who called 27 fouls in the second half, completely busted up the flow of the game and sent Meeks, Gonzaga's 7-footers Przemek Karnowski and Zach Collins, and a host of others to the bench in foul trouble.
There were a staggering 52 free throws in all. Both teams were in the bonus with 13 minutes left. Collins was the only player to foul out.
The most bizarre sequence played out with 8:02 left: Berry got called for a foul for making contact with Karnowski and stripping the ball from the big man's hands. But as Karnowski was flailing after the ball, he grabbed Berry around the neck and, after a long delay, got called for a flagrant foul of his own.
That resulted in four straight free throws, a 52-all tie and booing from every corner of the massive Phoenix University Stadium.
Zags coach Mark Few handled it with class, calling the refs "three of the best officials in the entire country".
He might have wanted further review on the scrum with 50 seconds left.
The refs were criticized on social media for calling a held ball, which gave possession to the Tar Heels, on a pile-up under the Carolina basket. It set up a Hicks layup to put Carolina three ahead. Meeks' right hand, however, looked out of bounds as he was trying to rip away the ball .
"That was probably on me," Few said. "From my angle, it didn't look like an out-of-bounds situation or I would have called a review. That's tough to hear."
The Bulldogs (37-2), the Cinderella-turned-Godzilla team from the small school in Washington state, tried to keep the big picture in mind. Twenty years ago, this sort of run looked virtually impossible.
With less than two minutes left, they had the lead in the national-title game.
"We broke the glass ceiling everyone said we couldn't break," Johnathan Williams said.
And North Carolina got over a hump that, at times, felt like a mountain.
"They wanted redemption," Williams added. "I put it on the locker-room board - one of the things we had to be tonight was tough enough."
Associated Press
Most Popular
Highlights
What's Hot