Blades of glory for China's plucky pair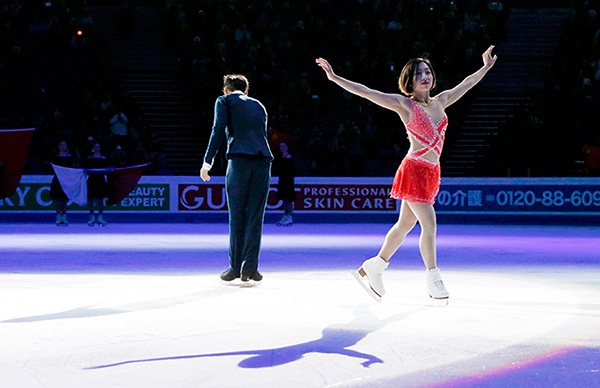 Gold medallists Sui Wenjing (R) and Han Cong of China attend the ceremony of figure skating during the ISU World Championships 2017 in Helsinki, Finland on March 30, 2017. [Photo/Agencies]
Sui and Han put troubles behind them to claim emotional victory
HELSINKI - The gasps of despair that greeted Sui Wenjing's fall following a mistimed landing turned into cheers of joy as she and fellow Chinese Han Cong won the pairs title at the World Figure Skating Championships in Helsinki on Thursday.
Sui and Han did not let the crash landing on a side-by-side triple Salchows derail their gold-medal hopes as they capped a year of pain and injury by finally ending their world-title quest on Thursday.
The duo sat out the start of the season as Sui recovered from surgery on her right ankle and left foot.
The break seems to have rejuvenated their fortunes because, having won silver for the last two years behind Canadians Meagan Duhamel and Eric Radford, they finally got their hands on gold with a personal-best total of 232.06 points.
"It was a very moving performance and I think that the audience could feel our emotion and our story in this program," said 24-year-old Han.
The pair from Harbin, Heilongjiang province, have been on the comeback trail after 21-year-old Sui had surgery on both her feet early last year.
"We have been through many, many difficult things. I hope Sui can stay healthy," San added.
Sui revealed that the months of doubt had changed her life.
"After my operation something changed for me," explained the 21-year-old. "I now enjoy every moment on the ice as never before.
"From the time I was a child becoming world champion was my dream.
"Now we want to keep going and go to the top of the podium at the Olympic Games next year."
Germany's Aliona Savchenko and Bruno Massot went up a level on the podium from 12 months ago to claim silver with 230.30 points.
Evgeniya Tarasova, who needed 10 stitches before Wednesday's short program after her partner's skate sliced her leg during morning practice, and Vladimir Morozov ended Russia's two-year barren run in the event by taking bronze. Tarasova was not the only one competing with a patched-up body in Helsinki.
When not on the ice, Radford has been putting in overtime sessions with his physio in an attempt to ease a hip-muscle injury that has left him hobbling around the Hartwell Arena.
The treatment failed to have the desired effect as he and Duhamel finished seventh.
Comeback kids
While Radford was looking forward to giving his body a break, Sui credited her time out this season for the Chinese duo's recent run of good form.
Since their comeback last month the pair have enjoyed 100 percent success, having also won the Four Continents title.
"After the surgery something changed in me as I started to enjoy performing more and more," said Sui, who went on the ice knowing she had to overhaul a target of 149.07.
Her new-found positivity helped Sui immediately forget about her crash landing, which happened less than a minute into their free skate, and she floated through the rest of the routine which included a quad-twist lift.
As the final strains of Paul Simon's "Bridge Over Troubled Water" faded out, Han closed his eyes and held his partner in a tight embrace.
"I was very excited at the end as I thought we had won. I did not care about the score," said Han.
Savchenko, who won five world titles with former partner Robin Szolkowy, thought she had a fighting chance of grabbing the top prize with Massot after completing a solid, if not flawless, skate.
Although her dreams were dashed, Massot was celebrating his best finish at the worlds.
"It's a long life of pain in our body to reach this level so it is amazing to get a reward like today," he said.
Agencies
Most Popular
Highlights
What's Hot