Guardiola craves cutting edge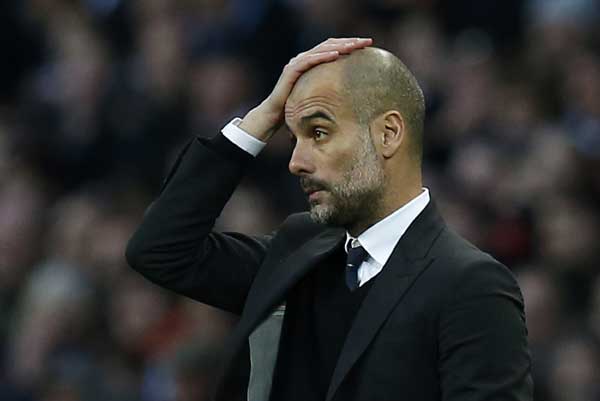 Manchester City manager Pep Guardiola reacts at a Manchester City v Liverpool match of Premier League, March 19, 2017. [Photo/Agencies] 
Happy day
Guardiola said City's enterprising display, so soon after their disappointment at Monaco, made it "one of my happiest days as a manager".
"More than ever I want to help this club," he added. "I don't know if I will be able to do that, but I am willing to help this club, if they want to stay with me, in the next years to make the next step forward."
Liverpool manager Jurgen Klopp retorted drily: "He's Spanish. They're more emotional than the Germans."
Victory would have carried Liverpool above third-place City, but it remains a point behind in fourth, having played a game more and with fifth-place Manchester United closing from below.
It might have left with all three points had Adam Lallana not miscued horribly from a Roberto Firmino knock-down, but Klopp defended the former Southampton man.
"Immediately after the game, Adam said sorry to me and I thought, 'Why?'" said Klopp.
"I know why he thought he had to, but he doesn't have to because his performance was outstanding again."
The result means Liverpool has avoided defeat in the 10 games it has played against top-six teams this season.
Although mindful not to overplay the achievement, Klopp said it was "a really important sign".
"There's one outstandingly consistent side (Chelsea) this year and they will be probably be champion, which is well deserved.
"All the rest of the teams fight with all they have in order to make the Champions League.
"We are one of these sides that is fighting, so that is good. If we make it, it's a success and if we don't do it, we'll be disappointed.
"But we won't stop fighting and working and believing in this project."
Agence France-Presse
Most Popular
Highlights
What's Hot