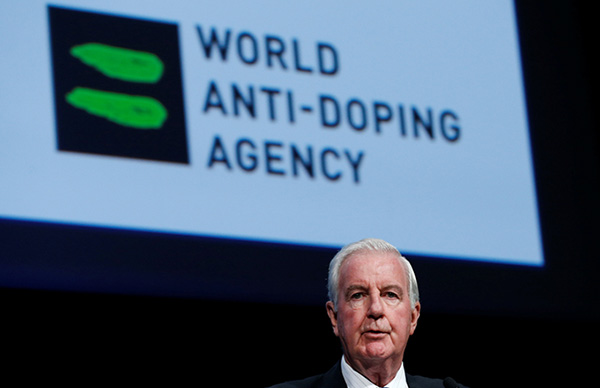 Craig Reedie, President of the World Anti Doping Agency (WADA) addresses the WADA Symposium in Ecublens, Switzerland, March 13, 2017. [Photo/Agencies]
Russia said on Monday it hoped its anti-doping body RUSADA would have its suspension lifted in November, but the World Anti-Doping Agency said it still had "significant work" to do and that the road map was slipping at times.
Sports Minister Pavel Kolobkov said Russia would "work diligently" toward a clean culture and listed what he said was progress on restructuring its anti-doping system after years of cheating scandals across a wide range of sports.
"We are open for all kinds of inspections of individual athletes and organizations such as RUSADA," he told an international meeting in Lausanne.
"We are ready to pass any kind of external inspection."
A series of reports by WADA have found that Russia conducted rampant state-sponsored doping, leading to the country's track-and-field federation being barred from last year's Olympics in Rio de Janeiro.
The vast majority of Russian competitors also seem certain to miss the world athletics championships in London in August.
WADA President Craig Reedie said RUSADA, suspended in 2015 for systematically breaking anti-doping rules, had taken steps forward in the past year, but more were needed.
"There remains significant work to do. (RUSADA) must demonstrate its processes are autonomous and independent from outside interference," Reedie told the Lausanne meeting.
He later told Reuters that Russia was lagging behind the agreed reform schedule but progress was being made with potential compliance still possible before the end of 2017.
"Timing is crucial. The road map slips, I have to say, every now and then," Reedie said. "They (Russians) know it slips, there has been admission of fault. But I think we are making progress.
"If you look at the road map then it is possible for this to happen (to be compliant within 2017)," Reedie added.
In a reminder of the continuing fallout from the scandal, the Swiss-based Court of Arbitration for Sport (CAS) on Monday upheld a lifetime ban on Sergei Portugalov, former chief of the Russian Athletics Federation's Medical Commission, for his role in providing illicit substances to Russian competitors.
In a 2015 report, WADA had written that Portugalov supplied performance-enhancing drugs to athletes and coaches, administered doping programs and "even injected athletes himself".
Reuters