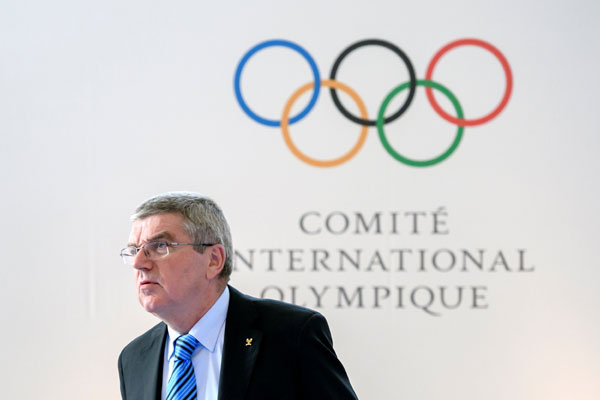 International Olympic Committee (IOC) President Thomas Bach looks on at the opening of an Olympic Summit on reforming the anti-doping system on October 8, 2016 in Lausanne. [Photo/Agencies]
LAUSANNE, Switzerland - The International Olympic Committee (IOC) wants to give more power to the World Anti-Doping Agency (WADA) in the fight against drug-cheating by athletes, it said on Saturday.
The IOC said it was agreed at a meeting of world sports leaders that the WADA should oversee the testing of athletes while sanctions would be decided by the Court of Arbitration for Sport (CAS).
Testing is currently conducted by either national anti-doping agencies or international sports federations, who also decide sanctions. WADA's role is mainly a regulatory one which includes compiling the list of banned substances.
The so-called Olympics Summit, held behind closed-doors at a luxury hotel in Lausanne, also proposed that WADA should have more control over national anti-doping agencies, and should supervise national anti-doping programmes.
"WADA welcomes all constructive proposals aimed at reinforcing clean sport," its president Craig Reedie said, adding that today's meeting was another stop towards strengthening WADA and the global anti-doping system.
"The recommendations that were put forward today will be considered along with others that we have received from stakeholders on such key topics as: WADA's governance and funding model; consequences for non-compliance; investigations; and testing," Reedie said.
The IOC proposals are likely to be approved at WADA's next meeting in November.
"We are to be given substantial additional authority and substantial additional power, so I am fairly happy with that," Reedie told reporters.
"We have been given powers on compliance and ....we are going to produce a whole range of potential sanctions for different degrees of non-compliance, so that's in our hands and we will do that."