Home-pitch failures haunt Jose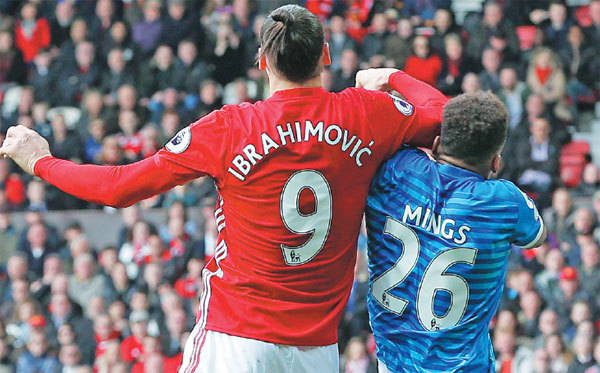 Manchester United's Zlatan Ibrahimovic challenges Bournemouth's Tyrone Mings during their English Premier League match at Old Trafford on Saturday. The match ended 1-1.[Photo/Agencies]
MANCHESTER - Manager Jose Mourinho fears Manchester United's bid to qualify for the Champions League will fall short because of the team's inability to beat inferior opponents at Old Trafford.
United had most of the possession and chances against struggling Bournemouth on Saturday, but Zlatan Ibrahimovic's missed penalty forced it to settle for a 1-1 draw.
United has dropped home points against a number of sides below it in the standings this season, with Stoke, Burnley and Hull all picking up draws at Old Trafford.
Mourinho said if his team had been more ruthless, it could even be challenging Chelsea for the title, but instead sits three points back of the top four.
"I don't speak about the Manchester City match at home that we lost, because everybody knows what happens, the penalty (we should have had) and the red card (that should have been shown) to (goalkeeper Claudio) Bravo," Mourinho said.
"But look at the points we lost at home, all the other matches we drew. If you accumulate those points, you are talking another 10 or 12.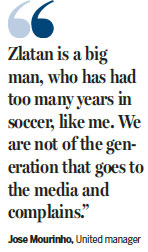 "Then you are not just talking about top four, but top two or maybe even top one. There are matches to play, points to win and points to lose, but the reality is that we are losing too many points at home."
Saturday's match was dominated by controversies just before halftime, first when Tyrone Mings escaped punishment for stamping on Ibrahimovic's head, then when the United striker elbowed the Bournemouth defender in the face.
Referee Kevin Friend did not penalize either player, but subsequently sent off Bournemouth captain Andrew Surman for a second bookable offense after he pushed over Ibrahimovic following the elbow incident.
Street soccer
Friend also banished Bournemouth assistant manager Jason Tindall to the stands for loudly protesting at halftime.
That all came after Josh King's penalty canceled out Marcos Rojo's first league goal for United, and before Ibrahimovic's second-half spot-kick was saved by Artur Boruc.
Mourinho refused to criticize Friend or Mings, saying: "Zlatan is a big man who has had too many years in soccer, like me. We are not of the generation that goes to the media and complains.
"We are from that generation of street soccer and soccer for big guys. What happens, happens."
Asked about the confrontation between Ibrahimovic and Mings, Mourinho said: "I don't comment. I comment on the soccer, I comment on the game, I comment on the big decisions of the game.
"I think Kevin Friend was very good, the penalty against Phil Jones was a clear penalty, the penalty against Adam Smith was a clear penalty, so the two big decisions of the game were good.
"The assistant referees were also good, so for me it was a good performance by the officials."
Tindall took on post-match media duties because Eddie Howe was ill, although the Bournemouth manager was well enough to remain active on the touchline during the game.
"Unfortunately I have not had the opportunity to see any of the decisions back again," Tindall said.
"The only thing I saw was the first yellow card for Surman, which I thought was very harsh.
"My players felt it was an elbow by Ibrahimovic. I am sure there was some kind of communication with the officials, which ended up with Andrew being sent off.
"I got sent to the stands. I let my frustrations get the better of me at halftime, but that was for the reason of Surman getting his first yellow card, which I thought was harsh."
Agence France-Presse
Most Popular
Highlights
What's Hot