Mourinho happy to be 'home' for Christmas
United boss finally feeling settled as he puts difficult start behind him
Manchester United boss Jose Mourinho said he is feeling "really at home" at Old Trafford and that foundations are in place for success to return to the club.
Mourinho endured a difficult start to life in Manchester after replacing Louis van Gaal, but the Portuguese's impact has begun to be felt in recent weeks.
United head into today's match against Sunderland on the back of three consecutive Premier League victories and with the Champions League places within reach.
"What I can say is that in here I felt people with open arms. A very calm and intelligent board and owners. They know what they want," said Mourinho.
"They have big experience already. They are very calm, very pragmatic, giving me good conditions to work and the players and people that surround me.
"I felt (aware of) some sadness because people that love football, they want to be successful and everybody tries to help to go in the same direction.
"For me it was easy to come. A difficult job, but easy now to feel at home.
"Easy to feel good in the club, easy to feel that the club wants to progress, the people want to be happy again and I felt good immediately.
"So five, six months here, but really feeling at home. For me it was quite easy.
"Obviously expectations are high, results up and down, and we are in a position that is not the position where we want.
"But in terms of passion for my work, passion for my new club, feeling really happy here, yes."
Mourinho is again set to start with striker Zlatan Ibrahimovic against the Black Cats.
The 35-year-old took his United tally to 16 goals with a brace in last weekend's 2-0 win at West Bromwich Albion.
He paid tribute to the endurance of the former Sweden international and his ability to cope with the rigors of the English game, despite his age.
Moyes return
"I think 35 for him is the same as 25," Mourinho said.
"He scores goals, plays well, I'm really happy for him because he will end his career on a high, not in America or China. He's ending his career at the top.
"His record is good. He can improve. With no penalties, that is amazing too. Normally other guys that are top scorers have a lot of penalties.
"He had one penalty in 17 matches. I couldn't be happier with him."
The United manager is still without Luke Shaw (groin injury), but otherwise has a full complement of defenders to choose from, with Marcos Rojo, Daley Blind, Phil Jones, Chris Smalling and Eric Bailly available.
Sunderland boss David Moyes returns to Old Trafford in charge of a team for the first time since he was sacked by United in April 2014.
Moyes lasted 10 months in the job after succeeding Alex Ferguson, but has no regrets about leaving Everton for his ill-fated stint.
"My time there was too short, but as I have said many times, you have to win games and I didn't win enough games," said the Scot.
"I would do it again, 100 percent. Very few people are offered the job at Manchester United and I was honored to be offered it.
"It was a great experience and one I wouldn't change because of the quality of the players and professionalism I found."
Former United players Donald Love and John O'Shea start for struggling Sunder-land, which is in the relegation zone.
However, Adnan Januzaj is not eligible because his on loan from United.
"I will feel that I'm going into a difficult game and for us to get a result we will have to play really well," said Moyes.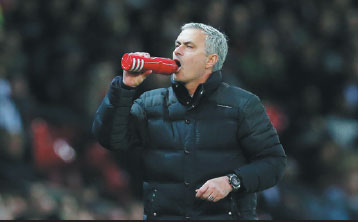 Manchester United manager Jose Mourinho refuels during his team's victory against Tottenham earlier this month. Andrew Yates / Reuters