CSL lookout: Foreign imports ready to upset order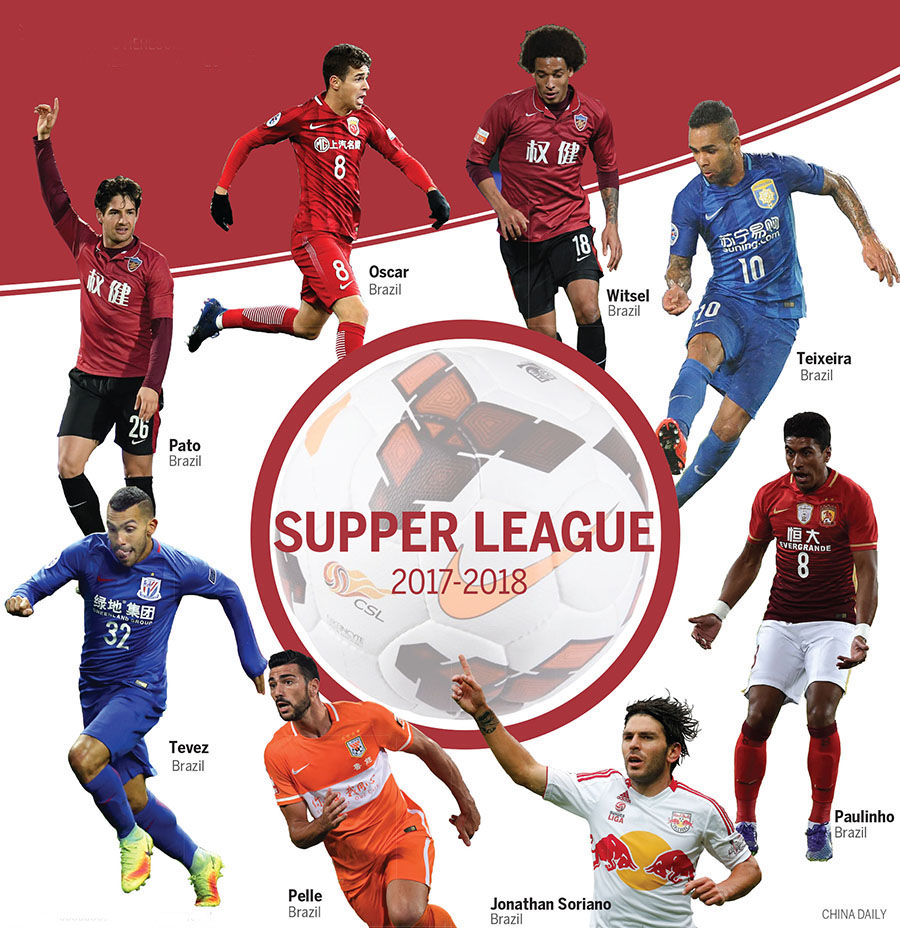 And so, no Wayne Rooney –at least, not for right now. Given the record levels of gluttonous spending, around 3.2 billion yuan ($470 million),it is somewhat perverse to focus microscopically on the one fat fish that got away, and yet that is how many will remember the Chinese Super League's (CSL)winter transfer window.
In truth, the significance of the Rooney saga lies not in the realization of a transfer but in the unquestioned potential of CSL, a once peripheral league plagued for years by half starts and mal-development, luring a modern day football icon with immense marketability on a long-term contract.
The transition into the 2017 season, which begins on March 3, has furthered the statement issued through last year's marquee signings, one bashfully announcing CSL's power both in economic and footballing terms. The development, in part catalyzed by the government's agenda of long-term national team success, has made for fascinating viewing with the ostentations of attention-hungry clubs being tempered by the proactive pragmatism of league officials.
Here we analyze the shakedown of over 200 player arrivals and gauge some of the dramatic changes of the window.
Is the profile of CSL's foreign player changing?
Few superstars have escaped the clutches of even the most lackadaisical tabloid speculation, but in Carlos Tevez and Oscar, Shanghai Shenhua and crosstown rivals Shanghai SIPG respectively have added elite South American talent still capable of playing at leading European sides.
In many ways, the signings uncannily represent a great number of the overseas players acquired by Chinese clubs in recent years. Most fundamentally, both players are attacking minded, which has overwhelmingly been the case; understandably, fans are more attracted to slick footed Brazilians than world-class tacklers and, with the limited number of foreign slots, clubs deem the impact of a goal scorer higher than players of other positions.
Yet, whereas Tevez, at age 33, evokes the protracted late career moves of a Didier Drogba or an Alberto Gilardino, Oscar remains in the prime of his career and represents an influx of younger players pledging their peak football powers to the league. Within this latter category are Changchun Yantai's 27-year-old Odion Ighalo and Brown Ideye who will play with Belgian international Axel Witsel at Tianjian Quanjian – with the latter openly turning down Italian powerhouse Juventus to do so.
Although Hebei China Fortune's new creative spark Hernanes and Beijing Guoan's last-minute signing of 31 year old forward Jonathan Soriano show the trend of snaffling waning talents is far from over, with 15 over 3o-year-old foreign players leaving in the window it seems CSL clubs are increasingly conscious of choosing longer term fits given the exorbitant salaries they inevitably pay.
Domestically experienced players demand top dollar
While domestic signings may not carry the prestige or media attention of arriving overseas players, the necessity of fielding seven Chinese outfield players, following the Chinese Football Association's (CFA) January rule change, has only heightened the demand for top level Chinese talent.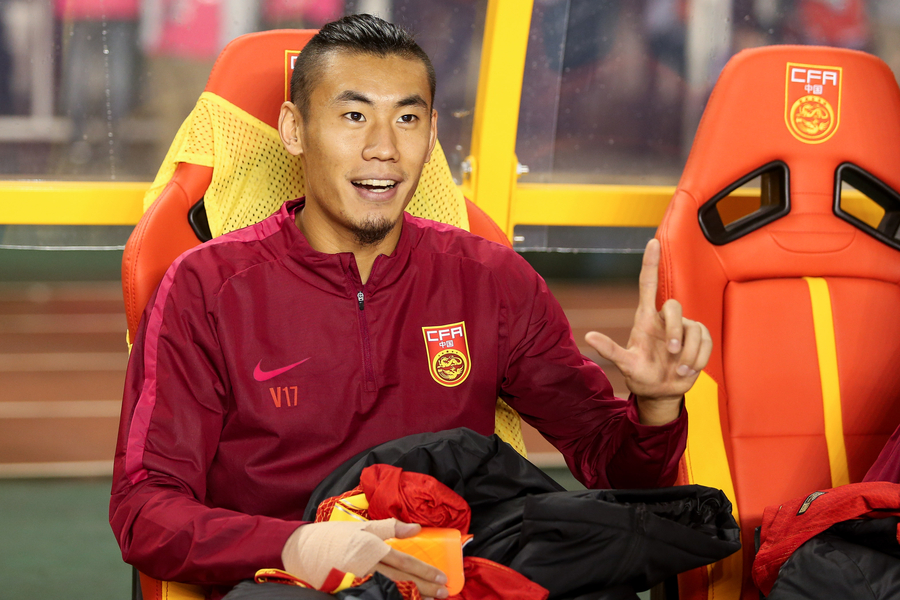 Chinese international Zhang Chengdong is seen during the 2018 Russia World Cup qualifier against Syria in Xi'an, Northwest China's Shaanxi province on Oct 6, 2017. [Photo/VCG]
Notably, a record number of 12 Chinese players exceeded the 50 million yuan mark with Hebei China Fortune making international defender Zhang Chengdong the most expensive Chinese footballer in history at somewhere around the 150 million yuan mark- if the continued inflation of player value is anything to go by, Zhang's record is unlikely to last long.
On average, teams acquired eight domestic players (not including players immediately loaned out) with many looking to China League One for players including Guangzhou Evergrande taking Zhang Chenglin from Beijing Renhe and Jiangsu's deadline day double swoop of Cao Haiqing and Wang Song from Guangzhou R&F and Hangzhou Greentown respectively.
Under the stewardship of Manuel Pelligrini, Hebei China Fortune waged an aggressive transfer policy, one focused on seizing domestic talent following the summer signing of Argentine winger Ezequiel Lavezzi. The Qinhuangdao-based team recruited eight Chinese players with five ranking among the top 10 most expensive domestic transfers. This includes the late blooming defender Zhao Mingjian, combative defensive midfielder Zhao Yuhao, and the aforementioned Zhang. With no continental football this season, Hebei has amassed a strong and balanced squad that will likely challenge at the top of the table.
Understandably, the majority of China-based transfers involved 27 to 30-year old professionals with strong CSL experience, one example is Tianjin's plucking Yang Shanping, who has recently gained Marcello Lippi's favor in the national team defense, from Liaoning FC.
CFA rule changes raises unanswered questions
Intriguingly, despite the CFA forcing teams to name at least two U23 Chinese players in their match day squads, a limited number of CSL sides spent big on young footballers with the previously mentioned Zhao Yuhao's move from Hangzhou to Hebei a notable exception. Certainly, it will be interesting to see whether clubs reevaluate their lack of investment in top quality youth players when the window reopens in the summer.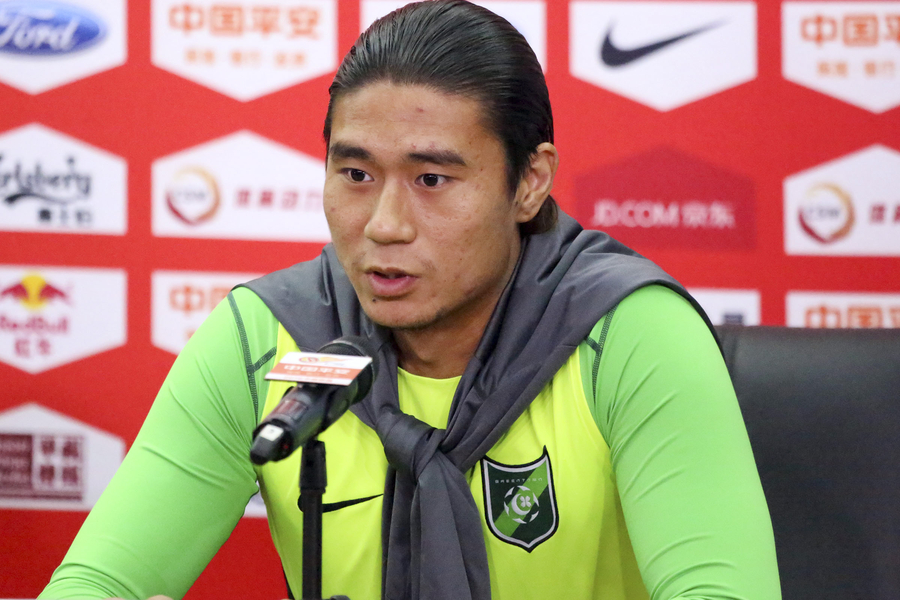 Hebei China Fortune's new signing Zhao Yuhao is seen in this file photo. [Photo/VCG]
Curbing excessive spending and the dominance of non-Chinese players aligns with CFA's ultimate goals of creating a quality league that vastly improves the national team and simultaneously produces homegrown superstars. Ultimately, assessing the success of this policy will not be evident for several years and will be reliant on the continued progress and investment in Chinese grassroots football.
However, the removal of the "plus one" part (i.e. allowing an additional Non-Chinese player from within the Asian confederation) seems counterintuitive and has been largely unremarked upon. With the higher wages flooding CSL, partly fueled by China Media Capital's 8 billion yuan TV rights acquisition in 2015, teams were previously incentivized to lure the best South Korean, Japanese, Uzbekistani, and Australian players. With the removal of the extra Asian player, the potential of CLS to dominate regionally both in terms of football and general popularity lessens considerably.
Bring on the football
For the second winter transfer window running, CSL outspent the notoriously lavish Premier League - this time by 940 million yuan. And yet for many, intrigue ends here. The prospect of actually sitting down and watching these shinny things called footballers is only half the fun of that moneyed world of speculation. However, for some it will spark an interest in a local club, or even in the game itself, as citizens everywhere from southwestern Guizhou to northeastern Jilin realize they don't have to watch Arsenal on a Saturday night to get their taste for the beautiful game. What's more, they're in luck. With the spread of wealth and accumulation of top footballers, this season promises to be the most competitive in recent memory.