Hainan getting a bit of Barcelona
La Liga giant, Mission Hills Group teaming up to build new academy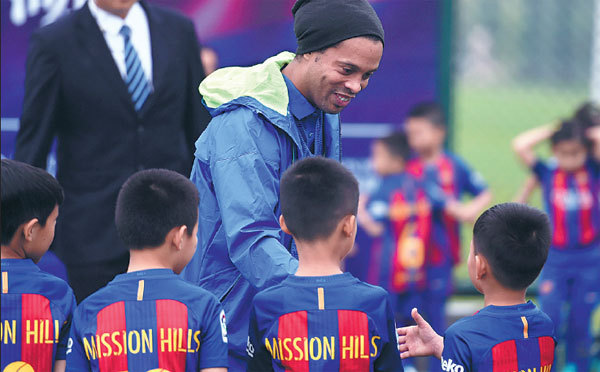 Brazilian soccer star Ronaldinho, who serves as ambassador for his former club Barcelona, shakes hands with local kids during his visit to Haikou, Hainan province, last week. Barcelona and the Mission Hills Group are working together to open a major soccer academy on the island and set up a long-term plan to develop the sport at the grassroots level throughout China. [Photo/Xinhua]
For years, millions of Chinese soccer fans have dreamed of a homegrown Lionel Messi.
A Barcelona-backed soccer academy to be launched this summer in Haikou, capital of South China's island province of Hainan, might help make that dream a reality.
The Spanish La Liga giant and Mission Hills Group, known for its world-class golf resorts, have signed a partnership to break ground on a joint-venture soccer academy. It will have seven pitches and accommodation for 1,000 boys and girls from six to 18 years of age.
The Haikou facility will be Barcelona's 26th overseas academy, and for the first time the club will dispatch its own technical staff to directly manage it.
"Playing a bigger role in this academy reflects the size of importance that Barcelona puts on this project and helps ensure that kids in Haikou can receive the same training that we use in La Masia," said Barcelona president Josep Maria Bartomeu.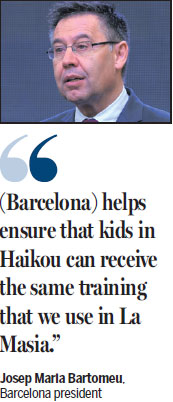 Founded in 1979, La Masia, the club's youth academy, has spawned dozens of star players, including the three finalists for the 2010 Ballon d'Or: Messi, Andres Iniesta and Xavi.
La Masia is regarded as a significant factor in Barcelona's European success as well as the Spanish national team's 2010 World Cup triumph.
By building facilities up to the standards of La Masia and emphasizing the Barcelona training philosophy of pass-and-move, the Haikou academy will aim to replicate the success of La Masia in China.
The Chinese Football Association issued mid- and long-term plans for the sport's development last year, setting goals of 50 million people playing soccer on a daily basis by 2020, having a top-notch national team by 2030 and growing into a global soccer power by 2050.
China's national men's team is currently ranked 86th in the world. To make a great leap, the central government is vigorously promoting soccer education on university campuses and plans to have 50,000 soccer-focused schools by 2025, the Ministry of Education said last week.
Foreign soccer clubs are also actively involved in China's youth soccer education, with prestigious clubs like Barcelona, Real Madrid, Arsenal and AC Milan flocking to the country to open academies and youth training camps in recent years.
"I would take it as cooperation rather than competition; it's good to have so many people engaging in youth soccer training, which will be of great help to increase our soccer level," said Ken Chu, chairman and chief executive officer of Mission Hills Group.
Bartomeu singled out the significance of the project.
"Our cooperation with Mission Hills will be a long-term project that lasts for 10 years, even 20 years, which is a big difference from other football academies in China," he said.
"More and more European players have come to play in the Chinese Super League, but by improving youth training, hopefully we can have more homegrown talent playing in the Super League and even European leagues.
"I'm sure we will see a graduate from our Haikou academy playing for Barcelona in the future."
Why Hainan?
Why is Barcelona putting a soccer academy in Hainan?
For starters, it's an ideal site for winter training and has good air quality. Ding Hui, director of the sports authority of Hainan, said 14 clubs from home and abroad held winter training camps on the island over the past several months.
The provincial government of Hainan has written the sports industry into its 13th Five-Year Plan (2016-20) as one of its 12 key industries. The government is also encouraging private investment in the development of soccer-related industries.
Soccer is popular on the island, with an U12 girls team in Qiongzhong Li and Miao autonomous county winning the championship at the Gothia Cup in Sweden in 2015 and 2016.
Besides the academy, a 7,000-square-meter "Barcelona Experience" center will also be opened in Mission Hills' complex in Haikou, featuring exhibits and club merchandise.
xujingxi@chinadaily.com.cn
Most Popular
Highlights
What's Hot