The dawn of China's new ice age
Beijing KHL club unveils ambitious growth plan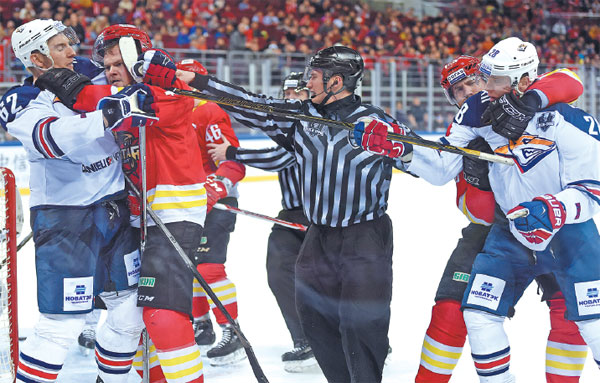 Kunlun Red Star's Max Warn takes a stick in the head from Metallburg MG's Roman Berdnikov as the Russian is restrained by Red Star's Brett Bellemore during Sunday's KHL playoff game at Beijing's Wukesong Arena (LeSports Center). Defending champion Metallburg won 3-2 to take a 3-0 lead in the best-of-seven quarterfinal, with Game 4 set for tonight at Wukesong. Ju Huanzong/Xinhua
The timing is auspicious - like having Sidney Crosby as your triggerman in a tie-breaking shootout.
Hot on the heels of President Xi Jinping's pep talk to a group of aspiring young bing qiu players last week, China's effort to pursue excellence in the world's toughest team sport has been given an enthusiastic endorsement by two prominent members of Canadian hockey royalty.
In a visit to the capital's Wukesong Arena (LeSports Center) on Feb 24, Xi watched a scrimmage by a group of elementary students. Afterwards, he shook hands with each player and praised their burgeoning skill in what is gradually becoming a mainstream sport in China.
"I hope some of you will make your way to the national team in the future," the president said.
Inspired by Xi, China is rolling out a national plan to involve 300 million citizens in winter sports ahead of the 2022 Winter Olympics in Beijing and Zhangjiakou, Hebei province.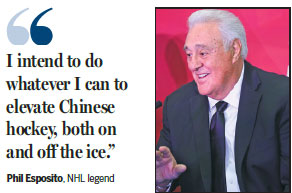 On Sunday, Canadian NHL legends Phil Esposito and Mike Keenan were introduced as members of a new international advisory board for Beijing-based Kunlun Red Star, China's lone entry in the Kontinental Hockey League.
The 29-team KHL is predominantly Russian, but includes clubs from seven other nations.
Esposito, who retired in 1981 and still ranks 10th on the NHL's all-time scoring list with 1,590 points, and Keenan, the only coach to win both a Stanley Cup (NHL) and Gagarin Cup (KHL), join Bobby Carpenter, Margaret Murphy and Scott MacPherson of the US, Red Star's Russian coach Vladimir Yurzinov and Zhao Xiaoyu, the team's chairman of the board, on the advisory committee.
Zhao said their objective is clear: "To help guide China's journey to the top level of world hockey."
"It is an ambitious goal and maybe not a very clear one yet, but we believe Kunlun Red Star, with the input we get from Phil and Mike and the rest of our advisory board, will lift hockey to a much higher profile in China leading up to the 2022 Olympics," said the chairman.
"It will take a lot of hard work, but our goal is to show the world that China belongs with the best in the world at the top of this great sport."
Esposito, who founded the NHL's Tampa Bay Lightning in 1992 and last month was named one of the league's all-time 100 greatest players, is impressed by China's commitment to grow the game.
"This is my first visit to this great country, but I expect to return many more times before the Olympics. I intend to do whatever I can to elevate Chinese hockey, both on and off the ice," Esposito said.
"I'm honored to be part of Red Star's advisory board because the challenge is so unique. I love the game, and to see the energy and commitment this organization and the Chinese government are putting into it is amazing.
"But along with getting more Chinese kids playing hockey, our goal is to boost its profile ... and that means educating and communicating with the media and the fans.
"Like we say in Canada, once you see hockey, you're hooked. I think the same thing can happen here."
Keenan is equally optimistic.
"We are embarking on a new frontier for Chinese sports," said the coaching guru, who along with his Stanley Cup (New York Rangers, 1994) and Gagarin Cup (Magnitogorsk, 2014), captured two Canada Cup global championships (1987, '91).
"I'm very excited about having an opportunity to contribute to building Chinese hockey at every level, from the grassroots to the national teams.
"In Canada, hockey is like our national religion. One of the reasons for that is because it emphasizes many of the things we hold dear, like teamwork, sacrifice and creativity. I think those same qualities are cherished in China ... and hockey is a natural showcase for them."
Zhao said the Red Star advisory board will meet quarterly to map out specific strategies for hockey development in China, but for now they just want to get the word out that "the dream is alive".
"This is only the beginning; there is much hard work to be done between now and the 2022 Olympics ... but we have a vision," said the chairman of the board.
"Years from now we hope to be able to look back and say that this was the first step in helping China realize the dream of becoming a powerhouse in world hockey."
Educate and elucidate
Phil Esposito and Mike Keenan know both sides of the puck, as it were.
With 717 goals and 1,590 points to go along with four MVP awards and a pair of Stanley Cups in his 19-year career, Esposito was one of the most dominant players in NHL history.
Keenan - the original 'Iron Mike' - ranks No 5 on the league's all-time list for coaching victories (672) and is the only bench boss to win the Stanley Cup, Gagarin Cup and Canada Cup.
Today, both men are active members of the media, regularly contributing to TV, radio and online productions - expertise that bodes well for their roles on Kunlun Red Star's new advisory board.
"I know what it's like to start a dream from scratch," said Esposito, who founded the NHL's Tampa Bay Lightning in 1992.
"When we first went to Florida most people there had never seen a hockey game; the sport was totally foreign to them. But we worked hard to educate the public and the media, to show them the beauty of the sport. Within a couple of years, everybody was embracing it. The same thing can be done here in China."
Keenan agreed.
"From what I've seen, Chinese fans are very passionate about their sports - and that passion can be channeled to hockey if we do a good enough job of selling the speed and beauty of the game," he said.
"Right now it looks like a pretty daunting task, but hockey is its own best advertisement. One of our goals is just to get fans to sample it - probably for the first time. But once they see the passion and excitement, I think China will fall in love with hockey."
Beijing-based Red Star, which debuted as a KHL expansion team this season, is trailing defending champion Mettalburg MG 3-0 in their best-of-seven Gagarin Cup quarterfinal playoff, with Game 4 tonight at Wukesong Arena (LeSports Center).
murraygreig@chinadaily.com.cn
Most Popular
Highlights
What's Hot