Seething Suarez holds out hope for King's pardon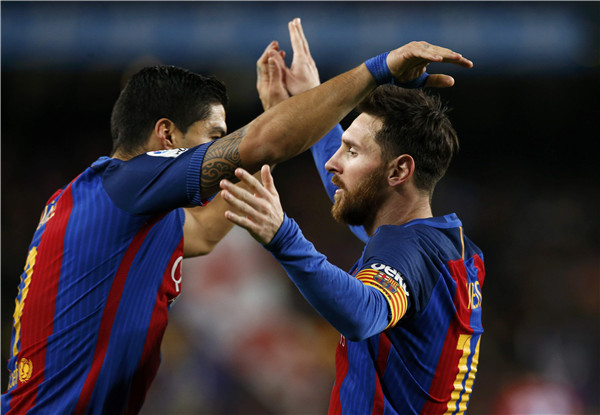 Luis Suarez (left) and Lionel Messi embrace after Suarez notched Barcelona's goal in Tuesday's 1-1 draw with Atletico Madrid in the Spanish King's Cup semifinal second leg at Camp Nou. Barca advanced 3-2 on aggregate. [Photo/Agencies]
Luis Suarez is hoping an appeal will save him from missing the Spanish King's Cup final after being sent off for Barcelona in a bad-tempered semifinal second leg against Atletico Madrid.
Suarez scored Barcelona's goal as three players were dismissed in Tuesday's 1-1 draw that secured Barca's place in a fourth straight final, 3-2 on aggregate.
However, the Uruguayan - sent off for the first time in three years at Barca - claimed a stray elbow on Koke as the game entered stoppage time wasn't even a foul.
"It makes me laugh because it was like he (the referee) wanted to do it," Suarez told Gol Television.
"We need to see if we can appeal the second yellow because it isn't even a foul, but we already know how these things go.
"That is why I am so angry because it was absolutely nothing. The first yellow was also for the first foul I committed in the game, but you could see it coming."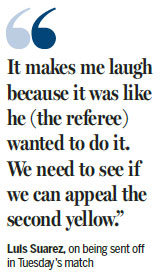 However, Barca boss Luis Enrique isn't holding out too much hope of having Suarez available for May's final against either Alaves or Celta Vigo.
"You have to appeal all you think is unjust, but when you look at the precedents, you see what normally happens with appeals," said Enrique.
"Apart from the anger that the players who will miss the final feel, the important thing is that Barca has won.
"There are now only two teams that can win the Cup and we are one of them."
Barca has still to lose a King's Cup tie against anyone other than Real Madrid since 2010.
However, it was given a mighty scare by an Atletico side that enjoyed the better of the chances on the night.
"Today the luck was with us," said Enrique.
"Perhaps in these 90 minutes we didn't deserve this result, but overall, given the opponents we have faced, we deserve to be in the final."
Yannick Carrasco forced Jasper Cillessen into a fine save after just six minutes before Suarez looked to have killed off the tie just three minutes before halftime.
However, most of the action came in the second half as Barca's Sergi Roberto and Carrasco both saw second yellow cards.
Atletico then had a goal by Antoine Griezmann wrongly disallowed and watched Kevin Gameiro's penalty fly over the bar before he tied the score seven minutes from time.
"Once again despite the circumstances that they faced, the players put their bodies, souls and hearts into a passionate tie as any Atletico Madrid player has to," said manager Diego Simeone.
"We are out of the competition but we have our heads held high and the strength that we have three fantastic months ahead.
"Hopefully we can maintain what we showed against them in the second half the other day and during the 90 minutes today."
Atletico has endured a disappointing season so far as it languishes well off the pace of Barca and Real Madrid in fourth in La Liga.
But Simeone is hoping its display will spark a return to the form that took it to the Champions League final last season.
"Last year after we lost here with nine men, I went away saying I felt something good could come of it and this time I feel exactly the same," said the Argentine.
"When you lose in this manner, something special remains with the team, above all with such important competitions such as the fight we have in La Liga and the Champions League to come."
Most Popular
Highlights
What's Hot